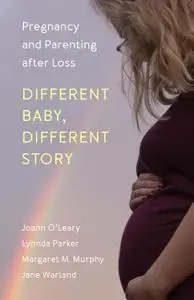 Different Baby, Different Story: Pregnancy and Parenting after Loss by Joann O'Leary, Lynnda Parker, Margaret M. Murphy, Jane Warland
English | December 15th, 2020 | ISBN: 1538125323 | 210 pages | True EPUB | 1.43 MB
Pregnancy after prenatal or infant loss can be a lonely and frightening time, but through stories of both pain and healing, the authors show how to navigate the exciting but choppy waters of a subsequent pregnancy.
The loss of a pregnancy or newborn infant changes the meaning of pregnancy, birth, and parenting forever. Increased parental fear and anxiety, and continuing grief for the deceased baby, can impact subsequent pregnancies in unexpected ways. Parents who are unsupported in pregnancy after loss are may be more at risk of experiencing anxiety, depression, Post-Traumatic Stress Disorder, and difficulty in attaching to a new baby.
Different Baby Different Story explores the range of emotions, thoughts, and physical experiences of parents who have gone on to subsequent pregnancies. Including stories from mothers, fathers, other children, and extended family members, this poignant and moving work will help readers through their own feelings and give voice to those who may have felt unheard or unsupported in the past. With practical advice on self-advocacy, the book helps expectant parents gain insights as to how others learned to work with health care professionals, mental health professionals, and their own families and friends and coworkers. For expectant mothers, their partners, their families and their friends, this work supports the range of experiences and encourages readers on a path to healing.
Enjoy
My Blog.
No any convert or low quality!