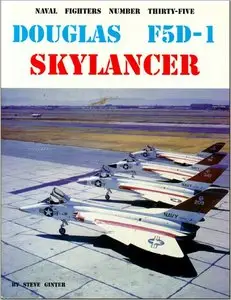 Douglas F5D-1 Skylancer (Naval Fighters 35) By Steve Ginter and Harry Gann
Publisher:Naval Fighters 1996 | 52 Pages | ISBN: 0942612353 | PDF | 76 MB
The Douglas F5D-1 Skylancer was a progressive development of the F4D-1 Skyray. It was conceived from testing data prior to the Skyray entering fleet service. In fact, the F5D-1 was originally designated F4D-2N. The F4D-1's and F5D-1's design­er, Ed Heinemann, described the Skylancer as "a natural and normal modification of the F4D". Many people believe that the Skylancer was a faster and better choice than its competitor the Vought F8U Crusader. They believe that it had inherently better stretch potential to the point where it could have out­performed the F-4 Phantom if the J-79 engine had been installed as envi­sioned by Ed Heinemann.
NO PASSWORD


!!!No Mirrors below, please! Follow Rules!