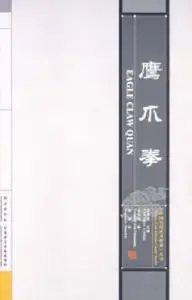 Ling Changming - Eagle Claw Quan
Henan Electronic & Audiovisual Press | 2008 | ISBN: N/A | 中文 / English | 72 pages | PDF | 21.41 MB
The Eagle Claw Quan is a kind of quan that develops from the form, spirit and attack method of the eagle, it is a kind of imitation boxing in Chinese Wushu. It mainly imitates the way the eagle grabs and clasps, the way the eagle swings with its wings in the sky. It s a particular kind of quan that was created from the eagle s behaviour and the peculiarities it hunts, while combined with the skills in Wushu. This routine is original with its quick and valor. It mainly attacks other people s gorge, joint and other key parts of the body. It is a classical imitation routine in Chinese Wushu. This book adopts the three-dimensional teaching method of diagram, words and video. The authoritative are invited for technical performance and teaching demonstrations, guaranteeing the learners to gain the real technical method transmission.
Chinese / English language.