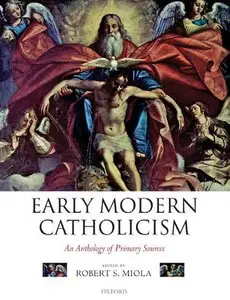 Robert S. Miola, "Early Modern Catholicism: An Anthology of Primary Sources"
Oxford University Press, USA | 2007 | ISBN: 0199259860 | 0199259860 pages | PDF | 4,9 MB
Early Modern Catholicism makes available in modern spelling and punctuation substantial Catholic contributions to literature, history, political thought, devotion, and theology in the sixteenth and early seventeenth centuries. Rather than perpetuate the usual stereotypes and misinformation, it provides a fresh look at Catholic writing long suppressed, marginalized, and ignored. The anthology gives back voices to those silenced by prejudice, exile, persecution, or martyrdom while attention to actual texts challenges conventional beliefs about the period.
The anthology is divided into eight sections entitled Controversies, Lives and Deaths, Poetry, Instructions and Devotions, Drama, Histories, Fiction, and Documents, and includes sixteen black and white illustrations from a variety of Early Modern sources. Amongst the selections are texts which illuminate the role of women in recusant community and in the Church; the rich traditions of prayer and mysticism; the theology and politics of martyrdom; the emergence of the Catholic Baroque in literature and art; and the polemical battles fought within the Church and against its enemies. Early Modern Catholicism also provides a context that redefines the established canons of Early Modern England, including such figures as Edmund Spenser, John Donne, John Milton, William Shakespeare, and Ben Jonson.
Only

ONE (1)

RS mirror, please