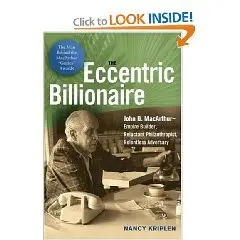 Nancy Kriplen, "The Eccentric Billionaire: John D. MacArthur–Empire Builder, Reluctant Philanthropist, Relentless Adversary"
Publisher: AMACOM | 2008 | ISBN 0814408893 | PDF | 240 pages | 1.5 MB
Product Description:
He was hated, feared, and admired. The country's second-richest man at the time of his death, John D. MacArthur (1897-1978) also became one of its great benefactors. Every year, some two dozen American writers, artists, intellectuals, and scientists receive as much as a half million dollars in grants knownas the "genius awards" from the John D. and Catherine T. MacArthur Foundation. But MacArthur was not the benevolent figure you might expect. Stingier than J. Paul Getty, as money-obsessed as Howard Hughes, and as ruthless as Cornelius Vanderbilt, MacArthur was one of the most multi-layered men in business history. Now, in this first full biography of John D. MacArthur as he really was, Nancy Kriplen reveals the man behind the myth – the often vulgar, sometimes unethical, always ambitious rogue who would become one of America's wealthiest men.
The Eccentric Billionaire chronicles how MacArthur amassed his fortune, rising from a poverty-saturated childhood as the son of a fire-and-brimstone preacher to become an insurance and real estate mogul. As sole owner of Bankers Life and Casualty, he also built a real estate empire that spanned the continent. Based on interviews with members of the MacArthur family as well as previously undiscovered letters and papers, this book reveals MacArthur's tumultuous private life, including his quickie divorce from his first wife and his Mexican marriage to Catherine, his brother's cute, clever teenage secretary who would help him on his climb to riches. The author also explores MacArthur's relationships with his family and friends, including his brother, the playwright Charles MacArthur, and sister-in-law, the great actress Helen Hayes. Extensively researched and beautifully written, The Eccentric Billionaire is a revealing look at a man whose influence has extended in ways he never dreamed.
Summary: Will read when I have more time
Rating: 4
Amazon prompted me to review this book which I bought a couple of months ago. Since I have yet to read it, there's really nothing of value that I can remark upon it. In light of the mammoth Ponzi scheme perpetuated by Sam Madoff (as in "Madoff apparently 'made off' with some $50 billion dollars in a cleverly devised investing scheme) that is in the news this week, "The Eccentric Billionaire" should provide a good basis in understanding how the truly greedy rarely are satiated even when the money comes in hand over fist. At least his heirs are putting it to good use by funding a variety of NPR programming.
Summary: Job Well Done!
Rating: 5
When Nancy Kriplen puts pen to paper, something magic happens.
In this case I refer to her new book "THE ECCENTRIC BILLIONAIR".
This long overdue, well researched biography is the quintessential rags to riches story of one of this country's wealthiest, yet little known self made men. Kriplen paints with her well toned writing skills a never before seen picture of the good, bad and the ugly side of John Donald MacArthur.
This book is a must read and a true treasure and will remain so for many years to come…
Bob Sanford
Palm Beach Gardens, Florida.
Summary: Nancy does it again!
Rating: 5
How many times following a performance on PBS have you seen, "Produced through the generosity of The John D. and Catherine T. MacArthur Foundation"? I never knew who they were or how he became a billionaire.
Now I do, thanks to Nancy Kriplen and her well-written book! Follow MacArthur from Chicago to Palm Beach. Get to know this man, who was extremely frugal throughout his life, and whose legacy now enriches us all.
Summary: Another compelling biography by Nancy Kriplen
Rating: 5
Nancy Kriplen, already proven to be an excellent biographer (buy her book on Dwight Davis - it's beautifully written), has done it again with her excellent book on John D. MacArthur. She has obviously done an incredible amount of research, yet she has the rare talent to be able to extract from her interviews and secondary research a summary of the best and most interesting information, giving us, as a result, a book of rich details.
As a result, she both entertains and educates us about a fascinating, yet very unlikable – and eccentric! - subject.
Summary: the eccentric billionaire
Rating: 5
"Love this book. And the author's writing style matched MacArthur's quirkiness. I really think this is a winner."
V. S. McKay
Indianapolis IN