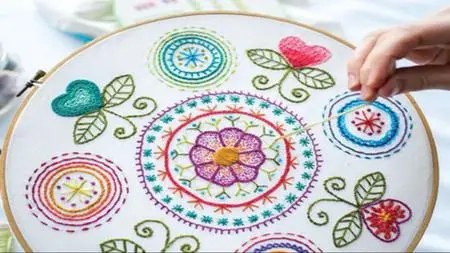 Embroidery For Beginners - 39 Stitches
Published 6/2022
MP4 | Video: h264, 1280x720 | Audio: AAC, 44.1 KHz
Language: English | Size: 2.59 GB | Duration: 2h 7m
For every individual interested in Hand Embroidery.
What you'll learn
This is a course for people who want to learn Embroidery from Basics.
You will learn a total of 39 stitches.
Minimum of 1 hr is required for learning and practice all together per day.
In the end of the course you will be using the stitch of your interest in the pattern provided in the recourses.
Requirements
Embroidery Frame - 5 inch
Anchor Cotton Threads (Any other brand is also fine but must be Cotton threads)
Hand embroidery Needles - 8 or 9 number
Cotton Cloth
Scale, Pencil/Pen and Scissor
Description
This course will contain 39 stitches - Basic stitches. These are the most commonly used stitches in Hand Embroidery. This course will help you create designs of your choice in the end. Basic of every stitch and materials are being provided in the form of video in the start of the class. The requirements are also mentioned in the box below.Practice is required to advance the stitch. A minimum of 30 min per day is required. We start with the easy stitch and continue with using more small pattens by the end of the course. Each video is a single stitch pattens hence they may be small but practice is required for advancing the stitch using them in the pattern in the future.At the end of the course we will provide you with a pattern for practice with the stitch of your choice.You can also provide the final image to us by tagging us in Instagram or FB. Links have been provided. You can also provide us with unique pattens at the end as well.We keep updating and providing you with different courses in the future, so be in touch with us in the Social media. You can use these stitches on Shirts, Sarees, Tops and many more of your choice.
Overview
Section 1: Introduction
Lecture 1 Introduction
Lecture 2 Materials Required
Section 2: Running Stitches
Lecture 3 Running Stitch
Lecture 4 Ending the Stitch (Knot)
Lecture 5 Whipped Running
Lecture 6 Laced Running
Lecture 7 Eskimo Laced Edging
Lecture 8 Zigzag Running
Section 3: Back Stitch
Lecture 9 Back Stitch
Lecture 10 Interlaced Back Stitch
Section 4: Steam Stitch
Lecture 11 Steam Stitch
Lecture 12 Whipped Steam Stitched
Lecture 13 Cable Steam Stitch
Section 5: Chain Stitch
Lecture 14 Chain Stitch
Lecture 15 Whipped Chain Stitch
Lecture 16 Twisted Chain Stitch
Lecture 17 Open Chain Stitch
Lecture 18 Split Chain
Lecture 19 Chequerd Chain Stitch
Lecture 20 Alternate Chain Stitch
Lecture 21 Raised Chain Stitch
Section 6: Cable Chain Stitch
Lecture 22 Cable Chain
Lecture 23 Zigzag Cable Chain
Lecture 24 Interlaced Cable Chain
Section 7: Cretin Stitch
Lecture 25 Open Cretin Stitch
Lecture 26 Half Kutch Work
Section 8: Herringbone
Lecture 27 Herringbone Stitch
Lecture 28 Interlaced Herringbone Stitch
Lecture 29 Threaded Herringbone Stitch
Lecture 30 Tied Herringbone Stitch
Section 9: Chevron & Fern
Lecture 31 Chevron Stitch
Lecture 32 Fern Stitch
Section 10: Chained Feather & Wheatear Stitch
Lecture 33 Chained Feather Stitch
Lecture 34 Wheatear Stitch
Section 11: Feather
Lecture 35 Feather Stitch
Lecture 36 Double Feather Stitch
Lecture 37 Closed Feather Stitch
Section 12: Fly, Coral & Double Knot
Lecture 38 Fly Stitch
Lecture 39 Coral Stitch
Lecture 40 Double Knot Stitch
Section 13: Couched Work
Lecture 41 Couched Work
Section 14: Sample Works
Lecture 42 Sample Designs on Sarees and Blouse
Beginners who are interested to learn Hand Embroidery