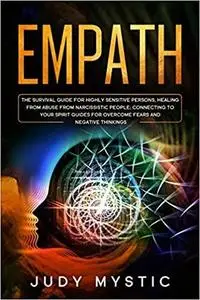 Empath: The survival guide for highly sensitive persons, healing from abuse from narcissistic people, connecting to your spirit guides for overcome fears and negative thinkings. (HSP/CBT/NPD) by Judy Mystic
English | December 28, 2019 | ISBN: 1652157204 | 117 pages | EPUB | 0.25 Mb
Do you want to master your personality, learn the aura reading and connecting to your spirit guides to become thriving as an empath? If yes, then keep reading…Empathy is something we all feel at one time or another in our lives. It is a basic, human experience and ability to have a compassionate sense of feeling for another person. We can even feel great empathy for ourselves in trying times. There isn't a lot of information available, however, about the Empath. Not all people are Empaths, though anyone can feel empathy or be empathic.The difference is simple. Most people have empathy in their wheelhouse of understanding the human experience and emotions. Only some people are true Empaths. Empaths are psychically, physically and emotionally more connected to an understanding of other people's feelings. It is almost like a magic power in which you can read and understand a person's thoughts and feelings simply by walking through the front door of their house and feeling the energy in the room. It can have a very detrimental impact on you, too. Empaths absorb and collect people's negativity and low feelings all the time, assuming that they are their own.You might be struggling with a lot of feelings of fear, depression, anxiety, repressed emotions, doubt, anger, sorrow and physical pain that you consider to be a part of your life experience and that it is just what YOU are going through right now. You may also just be an Empath, carrying around other people's toxic feelings and emotions in your life.You may not have considered yourself an Empath before because for a long time our culture has not considered it a legitimate diagnosis for a person and Empaths often end up accused of being overly sensitive, often sick or uncomfortable, anti-social and reclusive. But there is a good reason for all of these things.If you think you might be an Empath and want to find out how to help yourself embrace your gift, then look no further. This book is a guide to help you on your path to opening to your true nature and to help you stay healthy and well when you are around so many different kinds of people. You will also learn how unwanted and negative feelings and attitudes of others need to be blocked and how to protect yourself from people who are looking for a shoulder to cry on all of the time.You may have second-guessed and questioned yourself a lot about this, but I guarantee that as you read further, if any of this information resonates with you, then you are probably an Empath. So, what are you waiting for? Find out the true beauty behind having such a gift and learn how to empower yourself to enjoy and keep away the negativity of other people's feelings. Embrace your life as an Empath and learn the skills to live a full, free, harmonious life.This book gives a comprehensive guide on the following:
•What is empathy?
•Empathetic and highly sensitive person
•It is not a disease, it is a gift
•Master your emotions
•How to impose borders
•How to find peace by living in a cruel world
•How to make empathic decisions
•How to break away from the surrounding world
•Parenting empathic children
•Learning to control empathetic abilities
•Understanding the chakras
•Empaths and spiritual hypersensitivity
•Living day-to-day as an empath
•Outside resources
•Befriending the heart