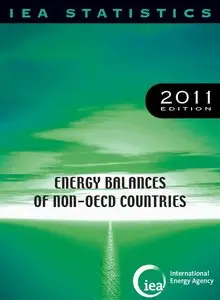 Energy Balances of non-OECD Countries 2011
IEA Statistics
OECD, IEA | Aug 2011 | ISBN: 9789264103351 9789264103368 | 538 pages | PDF | 11 MB
This volume contains data for 2008 and 2009 on the supply and consumption of coal, oil, natural gas, electricity, heat, renewables and waste presented as comprehensive energy balances. Data are expressed in thousand tonnes of oil equivalent for over 100 non-OECD countries.
Historical tables summarise production, trade and final consumption data as well as key energy and economic indicators. These tables also include preliminary estimates of 2010 production (and trade when available) for natural gas, primary coal and oil. This book includes definitions of products and flows, explanatory notes on the individual country data and conversion factors from original units to energy units.
TABLE OF CONTENTS
INTRODUCTION
PART I: METHODOLOGY
1. Issues of data quality
2. Explanatory notes
3. Units and conversions
4. Geographical coverage
5. Country notes and sources
6. World energy trends: an overv
PART II: STATISTICAL DATA
COUNTRY-SPECIFIC NET CALORIFIC VALUES GRAPHS AND ENERGY BALANCE SHEETS 2008-2009
World
OECD Total
Non-OECD Total
Africa
Latin America
Asia (excluding China)
China (P.R. of China and Hong Kong)
Non-OECD Europe and Eurasia
Middle East
Albania
Algeria
Angola
Argentina
Armenia
Azerbaijan
Bahrain
Bangladesh
Belarus
Benin
Bolivia
Bosnia and Herzegovina
Botswana
Brazil
Brunei Darussalam
Bulgaria
Cambodia
Cameroon
China, People's Republic of
Chinese Taipei
Colombia
Congo
Congo, Democratic Republic of.
Costa Rica
Côte d'Ivoire
Croatia
Cuba
Cyprus.
Dominican Republic
Ecuador
Egypt.
El Salvador
Eritrea
Ethiopia
Gabon
Georgia
Ghana
Gibraltar
Guatemala
Haiti
Honduras
Hong Kong, China
India
Indonesia.
Iran, Islamic Republic of
Iraq
Jordan
Jamaica
Kazakhstan
Kenya
Korea
Kuwait
Kyrgyzstan
Latvia
Lebanon
Libyan Arab Jamahiriya
Lithuania
Former Yugoslav Republic of Macedonia
Malaysia
Malta
Moldova, Republic of
Mongolia
Morocco
Mozambique
Myanmar
Namibia
Nepal
Netherlands Antilles
Nicaragua
Nigeria
Oman
Pakistan
Panama
Paraguay
Peru
Philippines
Qatar
Romania
Russian Federation
Saudi Arabia
Senegal
Serbia
Singapore
South Africa
Sri Lanka
Sudan
Syrian Arab Republic
Tajikistan
Tanzania
Thailand
Togo
Trinidad and Tobago
Tunisia
Turkmenistan
Ukraine
United Arab Emirates
Uruguay
Uzbekistan
Venezuela
Vietnam
Yemen.
Zambia
Zimbabwe
SUMMARY TABLES AND ENERGY INDICATORS
Production
Net imports
Primary energy supply
Electricity generation
Electricity consumption.
Final consumption
Consumption in industry
Consumption in transport
Other consumption
Gross domestic product (GDP)
Population
Energy production/TPES
Net oil imports/GDP
TPES/GDP
TPES/population
Oil supply/GDP
Oil supply/population
Electricity consumption/GDP
Electricity consumption/population
with TOC BookMarkLinks