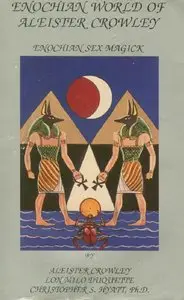 Aleister Crowley, Lon Milo Duquette "Enochian World of Aleister Crowley: Enochian Sex Magick"
New Falcon Publications | 1991 | ISBN: 978 1561840298 | 192 pages | PDF | 11,77 Mb
Enochian World of Aleister Crowley gives the student immediate access to the worlds most powerful, yet misunderstood, system of magick. Crowleys work was the launching pad for all that followed. Originally published in 1912, it rent the veil of the Inner Order of the Golden Dawn and revealed its most precious jewel for all to see. For the first time, the reader is provided with instructions that bridge the gap between the material and spiritual worlds by integrating Enochiana with Sex Magick. Mr. DuQuette and Dr. Hyatt bring over forty years of practical experience in the field to show you how to start using this powerful system right now.