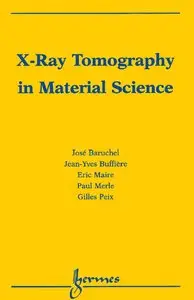 Eric Maire, Paul Merle - X-Ray Tomography in Material Science
Hermes Science Publications | 2000 | ISBN: 2746201151 | Pages: 204 | PDF | 11.29 MB
How materials behave under different conditions is key information for structural and mechanical engineers. The authors of this book show how X-Ray tomography can be used as a very powerful tool to investigate the microstructure and behavior of structural materials such as A1 and Ti based metal matrix composites, aluminum alloys and foams. The authors describe the technique and introduce the algorithms used for the reconstruction of the 3-D numerical images and illustrate the use of both synchrotron and X-Ray sources.
Thanks to original uploader!

Do you know only a small part of all books is visible on the AvaxHome Homepage (@ Home)?
To see all of them use
eBooks
category.
If you enjoy my books look at my
…::No mirrors, please::…