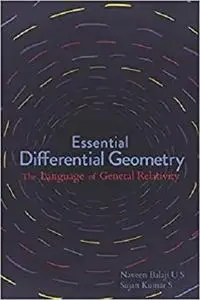 Essential Differential Geometry: The Language of General Relativity (Fiat Lux) by Naveen Balaji Umasankar
English | August 6, 2018 | ISBN: 1717858333 | 95 pages | PDF | 2.02 Mb
This book lays the mathematical foundations required to understand the majestic grandeur and essence of General Relativity (GR). This book provides a basic introduction to Differential Geometry required for studying GR. It's unique pictorial and analogy-driven approach provides a vivid experience to the reader. This book is for the highly-motivated undergraduate students of maths or physics who want to learn advanced concepts of maths and it's applications in physics in a unique and intuitive way. The mathematical level of the seven chapters of the book is that of undergraduates of mathematics or physics. The book assumes the reader to possess a fair knowledge of Special Relativity and Electromagnetism and aims at communicating the concepts as intuitively as possible, constantly promoting the avant-garde and consciously avoiding the vicissitudes one faces in the conventionalist approach to physics and the labyrinthine choice of words in archaic texts.
Feel Free to contact me for book requests, informations or feedbacks.
Without You And Your Support We Can't Continue
Thanks For Buying Premium From My Links For Support