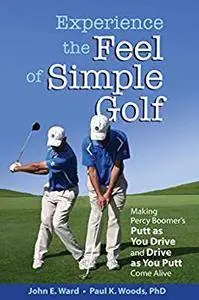 Experience the Feel of Simple Golf: Making Percy Boomer's Putt as You Drive/Drive as You Putt Come Alive by John E. Ward
English | September 18, 2015 | ISBN: 1515010813 | 296 pages | AZW3 | 7.08 MB
Today's golfing instruction bombards you with an endless list of swing mechanics to mentally control during a swing of less than two seconds.
Experience the Feel of Simple Golf
builds on the integrative methods of Percy Boomer, named the #1 all-time swing guru by
Sports Illustrated
, and teaches you his paradigm-shifting and simpler method of using the same lower body-powered swing movement to drive, chip, and putt.
Replacing the hundreds of standalone swing mechanics with five integrated fundamentals, this modern day approach to the old-school style swing helps beginner, intermediate, advanced golfers and golf instructors pinpoint the keys to better golf.
Presented in three parts, Part I shows how to learn the golf swing through feel in one four-hour lesson. Part II digs into the five fundamentals. Part III is a reference manual covering the short game, putting, and a seven-step self-guided troubleshooting process to fix a faulty swing. Read only those chapters that fit your skill level and needs.
An incredible follow-up to Boomer's 1946 classic,
On Learning Golf
, this innovative instructional by John Ward and Paul Woods revives the classic swing methods of great golfers like Nicklaus and Hogan.