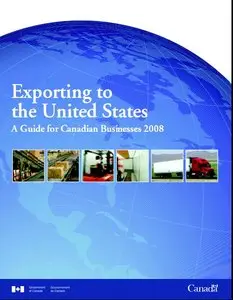 Exporting to the United States A Guide for Canadian Businesses 2008
The Canadian Trade Commissioner | January 2009 | ISBN: 066248360X | 67 pages | PDF | 6 MB
Topics: export / trade / business / international business / tariffs /
Is This Guide for You?Yes, it is, if your business has a product or service that you feel could compete in the United States. Even if you're already exporting to the U.S., we think you'll find information, tips and resources here that will help you succeed more quickly and easily in the U.S. market
Cover
Copyright page
Is This Guide for You?
Please Note
Contents
Before You Head South
Understanding Canada-U.S. relations
Understanding the North American Free Trade Agreement
Market access issues
Understanding the U.S. market
Global value chains and the U.S. market
Information sources for the U.S. market
Preparing to Export to the U.S.
Is there a market for your company?
Researching specific target markets
Assessing your company's readiness
Creating your export plan
Developing your export marketing plan
Selecting your market
Government services for exporters
Government training programs for U.S.-bound exporters
Sourcing business opportunities
Entering Your Chosen U.S. Market
Direct selling
Payments, returns and warranties
Selling through intermediaries
Working with your intermediary
Finding and checking out an intermediary
Partnerships, investments and acquisitions
Market entry for service exports
U.S. government procurement
Special issues for service exports
Innovation: Science and technology exports
The Legal Side of Exporting to the U.S.
The North American Free Trade Agreement NAFTA
Dealing with U.S. taxes
U.S. sanctions laws and regulations
Bribery and corruption legislation
Export contracts for goods
Export contracts for services
Patents, trademarks and copyrights
Obtaining contract insurance and bonding
Litigation in the U.S.
Protecting intellectual property from theft
Product liability litigation
The Basics of Export Financing
Obtaining financial assistance
Types of financial assistance
U.S. buyer financing
Payment methods
Dealing with non-payment
Reducing financial risk through export insurance
Reducing financial risk through buyer credit checks
Currency fluctuations
Business Travel to the U.S.
Documentation required for entering the United States
Entering the U.S. under NAFTA classifications
Entering the U.S. under non-NAFTA classifications
Travelling with samples and business gifts
Managing entry problems
If you are not a Canadian citizen
Labeling, Marking and Standardization
Country of origin
Technical regulations, standards and conformity assessment
Harmonized System (HS) codes
Labelling and marking requirements of U.S. agencies
Shipping labels
Packing and Shipping Your Goods
Basic packing and shipping requirements
Shipping methods
Controlled, prohibited and regulated exports
Reporting your exports
Using freight forwarders
Insurance
Border Security
Canada-U.S. border risk-management programs
The Canada Border Services Agency
U.S. legislation affecting exporters
Dealing with U.S. Customs
Customs brokers and what they do
Formal/commercial entry of goods
Required documentation for formal entry
Informal entry of goods
Duty deferral and duty relief
Clearing U.S. Customs
Penalties and seizures
Appendix A: Glossary of International Trade Terms