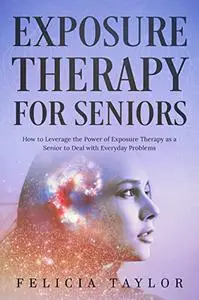 Exposure Therapy for Seniors: How to Leverage the Power of Exposure Therapy as a Senior to Deal with Everyday Problems by Felicia Taylor
English | 2022 | ISBN: N/A | ASIN: B09XHWY1KQ | 63 pages | EPUB | 0.15 Mb
Are you considering exploring exposure therapy to help you in dealing with everyday challenges that you may be facing as a senior citizen – fears, anxieties, depression and more – but have no idea where to start?
And are you looking for a blueprint that will uncover everything you need to know to make the most of exposure therapy so as to start living the life you've so much desired to live?
If you've answered YES,
Let this book show you exactly how to leverage the power of exposure therapy to deal with fears, anxieties, depression and more to maximize your overall satisfaction in life!
It is true that exposure therapy has the power to help you overcome fears, anxieties and phobias you've struggled with for years as well as those that have just cropped up in your senior years!
You just need to learn how to use it the right way!
But what exactly does exposure therapy entail and how does it work?
What if I am too anxious and fearful to be exposed to triggers of the same?
How long does exposure therapy take from the first day of the therapy?
How long should I wait before I start seeing improvements after the start of the therapy?
What if I have been exposed to the things I fear before and it did not work – will exposure therapy work?
These and other related questions are the subject of discussion throughout this book so keep reading to know how you can deal with anxiety, fear and distress and live a happy life in your sunset years.
More specifically, you will learn:
How aging has a way of unearthing challenges that may end up requiring exposure therapy to deal with successfully
How exposure therapy can improve your life and allow you to live happily in your sunset years
How to make the most of CBT exposure therapy to calm your anxiety
Simple exercises that you can add on to exposure therapy and make it more effective
Flooding therapy and how it works to reduce anxiety, fear and distress
How to make the most of virtual reality therapy
And much more!
Even if you have had unsuccessful exposure therapy attempts before. do not worry because this book will prove helpful in combating anxiety, phobias and fears without feeling like you are trying too hard!
Feel Free to contact me for book requests, informations or feedbacks.
Without You And Your Support We Can't Continue
Thanks For Buying Premium From My Links For Support