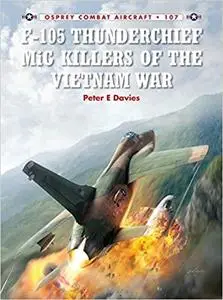 F-105 Thunderchief MiG Killers of the Vietnam War (Combat Aircraft) by Peter E. Davies
English | October 21, 2014 | ISBN: 1782008047 | 96 pages | PDF | 3.31 Mb
USAF Rolling Thunder strike missions tactically assaulted North Vietnamese defenses, overcoming MiG fighter jets and SAM (surface to air) missiles to devastate North Vietnam's industrial base strategically.
Despite its "F-for-fighter" designation, the F-105 was designed and purchased to give the USAF an aircraft for delivery of nuclear weapons at very high speed, long range and below-the-radar altitudes. When the Vietnam War began, it was the USAF's best available tactical bomber for a "limited conventional" war as well. From 1964 to 1968 it flew the majority of bombing missions against North Vietnam, performing an effectively "strategic" role in assaulting North Vietnam's industrial and military heartland. Thunderchief crews faced North Vietnamese MiG-17s and MiG-21s more often than any other US flyers. Large formations of F-105s came under frequent attack by MiG pilots, and the F-4 Phantom II escorts that were meant to protect them were not always in the right position to fend off the attackers. F-105 crews would then defend themselves using their internal 20 mm cannon and occasionally AIM-9B Sidewinder missiles. Although their fighters were far larger, heavier and much less manoeuvrable than the adversarial MiGs, the F-105 pilots used speed and skill to down 27.5 MiG-17s - a tally in excess of that scored by USAF F-4 Phantom II crews in the same period between June 1966 and December 1967! In most cases the F-105 pilots concerned also succeeded in dropping their ordnance on targets during the same sorties.
Feel Free to contact me for book requests, informations or feedbacks.
Without You And Your Support We Can't Continue
Thanks For Buying Premium From My Links For Support