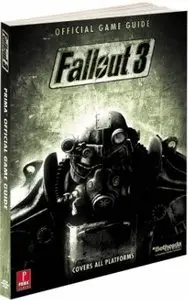 Fallout 3. Official game guide, 2008
Publisher: Prima Games | ISBN: 0761559965 | edition 2008 | PDF | 468 pages | 124 mb
Exclusive Collector's Edition content! Get a view behind the scenes into the creation of the most anticipated game of the year! A gigantic tour of the Capital Wasteland with over 100 maps showing nearly every area in the game.
• Every major ammo and health cache, Bobblehead, Skill Book, Unique Weapon, Weapon Schematic, Mini Nuke, and more!
• Multiple tactics and tips for every Main, Miscellaneous, and Freeform quest.
• Flowcharts and every major Karmic choice detail exactly where your decisions lead. Plus: All you need to know about completing all endings.
• Examples for creating different types of characters, from heavy-weapon specialists to stealthy lockpicking pros.
• Expert tactical advice on utilizing V.A.T.S. combat techniques, how best to allocate your S.P.E.C.I.A.L. abilities, plus which skills to pick as your adventure progresses.
• Need help taking down a Super Mutant Behemoth? Then check damage and health statistics for every weapon and enemy.
• Giant map poster to guide you through the Wasteland!