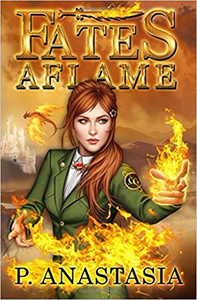 Fates Aflame - P. Anastasia
English | 2017 | 430 Pages | ISBN: 0997448539 | EPUB | 1.56 MB
"Sparks of golden light grew within my hands, fringed with vivid blue heat. Stems of fire manifested, licking at my fingertips, flickering and fighting to stay aglow amidst the pouring rain. Amber coils wove together, and from those struggling flames bloomed an effervescent rose. The petals unfurled and tumbled open gracefully, brought to life by pulsating swirls of orange and red.
In a society secretly fueled by unbridled magic, an ever-changing landscape of politics and formalities tugged the threads of my fate in all directions, shrouding the future in uncertainty.
My hands squeezed closed and the rose evaporated into smoke.
Earth has chosen me as its Guardian, and I have no choice but to assume the role. In the blink of an eye, a once carefree life faded from sight, like the blazing rose within my damp fingers."
Earth granted her the ability to conjure fire at will, but the birth of her powers awakens a curse and a perilous trial unfolds, putting the lives of those she loves in jeopardy. When extinct beasts brought forth by ancient magic threaten her life, she has no choice but to take a stand…
Download Links