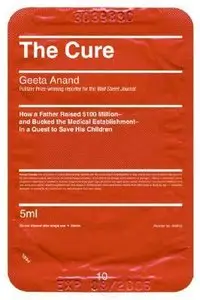 Geeta Anand, "The Cure: How a Father Raised $100 Million–And Bucked the Medical Establishment–In a Quest to Save His Children"
Publisher: William Morrow | 2006-09-01 | ISBN 0060734396 | PDF | 352 pages | 1.5 MB
The remarkable true story of one father's race against time to found a business that would cure his sick children.
John and Aileen Crowley were on top of the world. With a brand-new Harvard Business School degree, three beautiful children, a new house, and a great job, they thought that they had just entered the best years of life. Then doctors diagnosed their two youngest children with Pompe disease, and everything changed.
Fifteen-month-old Megan and five-month-old Patrick were given only months to live. Pompe disease, the Crowleys were told, was so rare that no company had bothered spending the money needed to sponsor research. There was no cure, no treatment—only the gradual degeneration of muscle so that at the end, the children would be unable to walk, eat, or even breathe on their own. It was a nightmare the Crowleys could hardly comprehend.
But John Crowley refused to accept this death sentence—and in the absence of other options, he made his own. Determined to find scientists who could develop a replacement enzyme that would keep the disease at bay and his children alive, Crowley quit his job as a financial consultant and invested himself and his life savings in a biotechnology start-up company. In just over a year, Novazyme Pharmaceuticals, Inc., went from an endowment of $37,000 to $27 million, and was sold to Genzyme Corp. soon thereafter for a news-breaking $137.5 million. But the struggle wasn't over yet, and scientific setbacks, accusations of conflict of interest, business troubles, and the children's own worsening condition would test the limits of John and Aileen's minds and hearts as they fought towards a cure.
With deft prose and devastating clarity, Pulitzer Prize-winning Wall Street Journal reporter Geeta Anand weaves together the disparate threads of this remarkable story of cutting-edge science; of business acumen and daring; and of the indomitable fighting spirit of a family that refuses to give in.
Heart-wrenching yet triumphant, The Cure takes readers from the boardrooms and laboratories to hospital beds and kindergarten classrooms. With its captivating and ultimately deeply uplifting narrative, The Cure is a wholly American story of commerce and technology, of determination and daring, and of family and the power of a belief in happy endings.