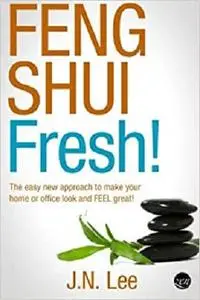 Feng Shui Fresh!: The easy new approach to make your home or office look and FEEL great! by J.N. Lee
English | February 19, 2015 | ISBN: 1508534802 | 110 pages | MOBI | 0.68 Mb
Discover how to quickly and easily create healthy, beautiful spaces that FEEL as good as they look!
Do you want to learn the secret first step in establishing a healthy, happy space?
Would you like to discover fresh tips for creating a beautiful home, even if you're a complete beginner?
Find simple, step-by-step, techniques for each room of your home
Revealed: the biggest enemy of healthy spaces (and how to beat it quickly)
Discover the history of Feng Shui and what it means for you today
Find out which aspect of Feng Shui can trigger dramatic changes
And which colors can directly affect your mood
Learn what 'Chi' is and how you can use it, even as a novice
How you can easily use Feng Shui at work for a brighter, more productive office
Easy to follow, jargon-free guides
And more!
This book is your guide to a healthier, more relaxed and productive life through beautiful and positive spaces that make you feel good!