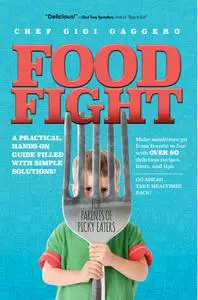 Food Fight: For Parents of Picky Eaters by Gigi Gaggero
English | November 16th, 2018 | ISBN: 1633936643, 1633936627 | 342 Pages | EPUB | 3.18 MB
Take mealtimes back! Are you tired of questioning your own parenting techniques?
Exhausted from being a short-order cook? Sick of feeding fast foods just to get your child to eat, and at your wit's end over disruptive family dinners? Then Food Fight: For Parents of Picky Eaters is for you! While it's easy to see picky eating as a phase, moderate-to-severe picky eating often coincides with serious issues like depression and anxiety that may later require intervention. Chef Gigi exposes the habits that inadvertently reinforce picky eating and helps parents navigate the challenging landscape by showing them the science behind flavor and awakening them to the culinary magic of umami—just like professional chefs have done for years! Included are both simple techniques and more advanced tactics for the battle ahead, as well as over 60 delicious, easy-to-prepare recipes the whole family will love.