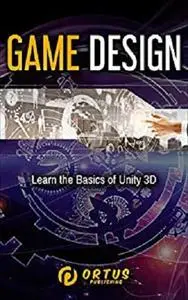 Game Design: Learn the Basics of Unity 3D (Introduction to Game Design) by Ortus Publishing
English | October 14, 2018 | ASIN: B07JG9V28H | 43 pages | AZW3 | 0.53 MB
Are you thinking about a career in Game Design? Wondering what Unity3D game engine is all about?
While Unity is a simple and incredibly popular engine to use, getting started can be a bit of a problem if you don't know where to start.
It has an intuitive interface, everything is set out as easily as it could be but where do you start? How do you even begin to start building a game using Unity3D?
This guide is designed to help you with that and what you will learn is:
A basic overview of scripting in Unity3D, with some examples in JavaScript and in C#
A brief tour around the main components of the Unity interface, where everything gets done
What GameObjects, Prefabs and Components are
How to start using Colliders
How to set up pickups for your game players to collect
The role of the Camera in Unity3D
What the Particle System in Unity is and how it works
You will start to build your very first game, just so you know and understand how all these components go together as you begin to see it take shape.