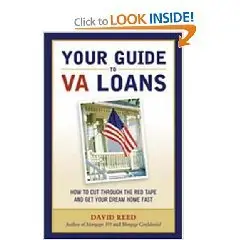 David Reed, "Your Guide to VA Loans: How to Cut Through The Red Tape and Get Your Dream Home Fast"
Publisher: AMACOM | 2007 | ISBN 0814474357 | PDF | 224 pages | 1.58 MB
Product Description:
In 1944, Congress enacted the GI Bill to thank the men and women who served in the armed forces for their hard work and dedication. One of the most valuable benefits included in the bill was the VA Loan. But bureaucracy and stringent procedures have made applying and qualifying for these loans complicated and unwieldy. Your Guide to VA Loans is the first book to guide veterans through the process. Readers will discover how to determine whether VA loans are right for them, how to apply, and how to deal with common problems that arise. Mortgage expert and author David Reed has more than 30 years of experience helping buyers navigate complicated loan processes. Here he offers advice on topics such as:
* selecting the right VA lender
* finding an agent in a town where there are few veterans
* getting the best interest rate
* refinancing VA loans
* getting advice on VA loans while on active duty
Complete with a guide to regional resource centers, sample loan applications, payment tables and a glossary of terms, this seminal guide will help all veterans fully enjoy the benefits they need and so richly deserve.
Summary: An Invaluable Resource
Rating: 5
Three years ago, when we first started shopping for a house in New Jersey, I couldn't find any reliable information on VA loans anywhere. This year, we resumed our search and I was delighted to come across David Reed's excellent Guide to VA Loans earlier this week as it clearly and concisely explains every step of the process of finding, qualifying for and closing a VA loan. The sample certification and loan applications, and helpful glossary of terminology are an added bonus, and I am much more confident about picking the right lender than I was before I bought this book. The VA should make sure every veteran picks up a copy!
Summary: This was a must read for any veteran
Rating: 4
This book was very helpful. there are over 22 million veterans and only about 2.5 million have VA home loans. I think that it is mostly becuase they don't understand how they can truly benefit from them. This book really helps you to understand the process of getting a va home loan especially when you are going to buy your first house which I think is big issue. I found it very helpful in taching me how to understand the streamline refinance process. if you are considering getting a VA home loan you MUST read this first! It will save you from many critical mistakes.
Chad Childress
Salt Lake City, Utah