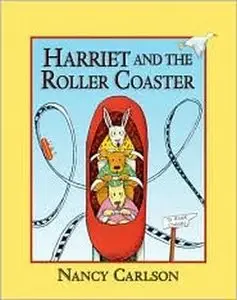 Nancy L. Carlson, "Harriet and the Roller Coaster"
Publisher: Carolrhoda Books / Turtleback Books | 2003-09 | ISBN 1575052024 | PDF | 32 pages | 3.2 MB
George, a rabbit, brags to his canine classmate Harriet that he's going to ride on the big roller coaster when their class visits the amusement park. "I bet you're too scared to ride the roller coaster," he sneers. Harriet says she is not scared, but the night before the field trip, she doesn't sleep very well. At the amusement park, George gives Harriet every opportunity to chicken out. But she does not. And, what's this? Once the roller-coaster car begins its downward plunge, it's George who yells, "Mommy!" while Harriet wonders, "Is it over already?" Carlson's winning, childlike illustrations use minimal line work to evoke her characters' extreme emotions (George's taunting nature is depicted by the slightest slant of an eyebrow). More expansive elements, such as the loop-de-loop of the roller coaster, are also drawn with understated flair. Children will be encouraged to brave new adventures, even if they're scared, and learn not to be swayed by those who claim they're not.