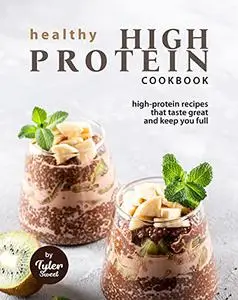 Healthy High Protein Cookbook: High-Protein Recipes That Taste Great and Keep You Full by Tyler Sweet
English | 2021 | ISBN: N/A | ASIN: B09D2T6BMT | 75 pages | EPUB | 3.56 Mb
Do you need protein-rich foods?
Protein is an essential nutrient that we need throughout our life. Also, we need in particular quantities depending on the stage we are in. There are various stages in our life like our age, pregnancy, child-hood.
It is assumed by many people that are non-vegetarian foods are the richest source of proteins. Still, there are many vegetarian superfoods like milk, nuts, sprouts, which also include routine. This cook-book contains both non-veg and vegetarian ideas to give varieties. All we need in our lifestyle is to bal-ance the protein in our body through foods.
This healthy high protein recipes cookbook has some mouthwatering recipes, and these are incredibly healthy, brimming with nutrients like iron, zinc, and protein. It's suitable for weight watchers, and your whole family will enjoy the nourishing meal.
I have tried to include many good recipes, including chicken, beef, fish, salads, smoothies, protein shakes, and several types of energy bars. All these recipes are a combination for your everyday break-fast or snacking in the evening and best for pre/post workouts.
Some recipes like tofu flatbread, avocado toast, stuffed bell peppers, and cauliflower lentil salad start your morning with lots of energy. These recipes have lots of protein and taste to suit yourself.
Moreover, some amazing light snacking is also included, like chia spiced protein balls, raspberry over-night oats, coconut energy bars, and chocolate protein pudding that is just too much comforting!
Now you have a great alternative protein available with delicious taste than ever. These high-protein recipes will keep your energy level up and satisfy your inner being.
Protein foods help you prevent energy dips by supplying a more stable stream of energy for your whole day, and it also best for your hunger pangs. It's always a good idea to be your high-protein snack with a good source of carbs – that will satisfy you for a more extended period.
When looking for a high-protein, delicious post-workout meal, this cookbook Will surely meet your health goals and enjoy delicious food.
Feel Free to contact me for book requests, informations or feedbacks.
Without You And Your Support We Can't Continue
Thanks For Buying Premium From My Links For Support