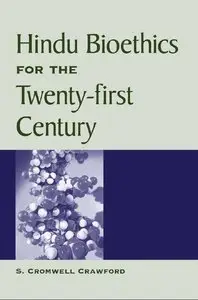 S. Cromwell Crawford , "Hindu Bioethics for the Twenty-First Century"
State University of New York Press | 2003 | ISBN: 0791457796 | 256 pages | PDF | 1,1 MB
Explores contemporary controversies in bioethics from a Hindu perspective.
Review
"Crawford makes accessible a wealth of Hindu perspectives on biomedical reasoning and practice that are at once practical and profound. His book is indispensable for practitioners and educators in biomedicine and health care who are concerned with utilizing the contributions of world traditions to attain more comprehensive and satisfactory solutions to some of the most challenging problems faced by humankind. It is a tremendous resource for understanding Hindu value theory and philosophy of person and body, as seen through the lens of health and medicine."
Only

ONE (1)

RS mirror, please