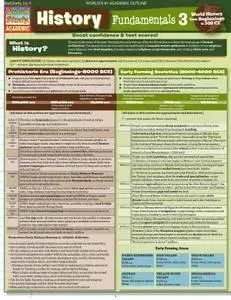 History Fundamentals 3 (Quick Study Academic) by Expert Editions
English | July 20th, 2010 | ISBN: 1423214293 | 4 pages | True PDF | 1.21 MB
Covering world history from its beginnings through 500 C.E., our guide covers critical aspects of this vast time period, showing how human beings evolved from hunter-gatherers to farmers, and then to city dwellers, building empires, inventing technologies, developing agriculture, forming governments and religions, and creating art and literature. Key events, figures and concepts are concisely explained for this grade range, and callout features illustrate civilizations and empires through history, as well as major world religions.
Divided chronologically to help middle-schoolers gain a better understanding of historical perspective, this guide's sections/topics include:
• Prehistoric Beginnings (through 8000 B.C.E.)
• Early Farming Societies (8000–4000 B.C.E.)
• Early Civilizations (4000–1000 B.C.E.) – Ancient Egypt, Sumer, Indus Valley, China, Mesoamerica
• Classical Traditions, Major Religions & Giant Empires (1000 B.C.E.–500 C.E.) – Classical Greece & Rome; Ancient Near East; Judeo-Christian development; Asia; Africa; the Americas
• And much more!
[NOTE: National Standards for Social Studies use B.C.E. and C.E. to correspond to B.C. and A.D., respectively.]
Enjoy
My Blog.
No any convert or low quality!