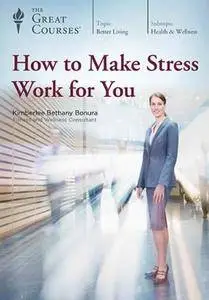 How to Make Stress Work for You
HDRips | M4V/AVC, ~1979 kb/s | 1280x720 | Duration: 09:42:32 | English: AAC, 192 kb/s (2 ch) | + PDF Guide
Size: 8.78 GB | Genre: Psychology
Life is stressful. There's just no getting around it. But while everyday stressors are a fact of life, that doesn't mean they have to control you. Rather, with the right scientific understanding, you can actually make stress work for you instead of against you.
According to fitness and wellness consultant Dr. Kimberlee Bethany Bonura, trying to live a completely stress-free life is a zero-sum game. Life without stress is an apathetic life in which nothing matters. The true goal of your relationship with stress is to figure out how to manage it effectively; how to use it to build and support a meaningful, resilient life.
Recent years have seen a wealth of new insights into the science of stress and its effects on our physiological and psychological health. These insights, the product of fascinating research and studies, are more than simply interesting to learn about. They're vital, powerful tools you can use to transform how you think about (and react to) stress, whether everyday stressors like traffic jams or unexpected traumas like a death in the family.
The bottom line, according to Dr. Bonura: "You can still find joy in this moment, in this chaos, in this life, by learning to be your own ultimate master of stress."
With the 18 enriching and inspiring lectures of How to Make Stress Work for You, Dr. Bonura shows you how to manage and minimize the stress in your life. You'll learn how to identify the types of stress you're most vulnerable to, what your current stress responses are, ways to manage your response to stress (including key behavior modifications and mental exercises), and a plethora of other relevant, practical, and even essential information on integrating stress into a healthy lifestyle. Rooted in scientific findings from experiments, research papers, case studies, and first-hand experiences from Dr. Bonura's life and career, this course offers you nothing less than a bold new way of facing (and appreciating) daily life.
EXPLORE THE NUANCES OF HOW STRESS WORKS
Think of stress management as a toll road, with an initial cost to get on but with long-term savings. The strategies and techniques required to master the stress in your life take some initial work to learn—and ongoing practice to hone and strengthen. But the investment, in the long run, will end up saving you time, energy, money, and preserve your mental health.
Designed to be your helpful companion in this process, How to Make Stress Work for You elucidates the realities of stress: how it works, why it affects us the way it does, and the importance of managing it.
Throughout these lectures, you'll explore the nuances of stress in ways you may never have considered.
Types of stress: One important thing to understand about stress is that different stressors have different positions on what Dr. Bonura calls your personal "stress continuum." There are traumas (for example, major illness) which are deeply stressful and often outside your control; moderate stressors (like work deadlines) that are more contained and manageable; and activities of daily living (such as laundry or getting dinner on the table) that can be stressful depending on your personality.
A matter of perception: New approaches to stress management take into account the fact that you never directly experience any stimuli. Instead, what you're experiencing is the brain's interpretation of raw input (sights, sounds) using memory, analysis, and reasoning. That's why one important step in stress management is understanding that what you're responding to in life are your perceptions—not the stimuli itself.
Busting emotional myths: Throughout these lectures, Dr. Bonura busts common misperceptions about our emotions and their relationship to stress. It turns out, for example, that the continued pursuit of happiness is, in and of itself, stressful. And if you think expressing your rage through punching a pillow is helpful, think again; it could actually be making you angrier.
The power of meditation: Meditation can dramatically improve your relationship with the stress in your life. You may have already practiced this essential skill without having gone to a meditation class. How can that be? At its core, meditation is the skill of keeping your mind and your awareness in the present moment.
Welcome to the best eLearning video (English, German, French, Spanish language) and many more:
LINK
Do not forget to check my blog! Updated regularly! Add in bookmarks my blog :)
PM me if Links not working!
No mirrors pls!