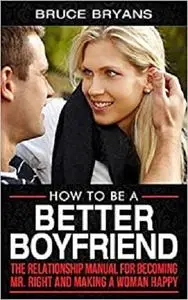 How To Be A Better Boyfriend: The Relationship Manual for Becoming Mr. Right and Making a Woman Happy by Independently published
English | May 10, 2020 | ISBN: N/A | ASIN: B088B36N95 | 97 pages | PDF | 0.47 Mb
Discover How to Become Better 'Boyfriend Material' For a High-Quality Woman
If you don't know how to be a good boyfriend or even how to make a woman fall in love with you (for good), then you probably feel a bit powerless when it comes to understanding women. But if you want to become an irresistible catch to your dream girl, you MUST do least two things:
1. You must become the kind of man she can respect, and…
2. You need to know how to keep her happy in a relationship.
Someday you WILL meet that special girl who possesses everything you've ever wanted in a woman. And if she's a high-quality woman, you know…
The Total Package
, you're probably only going to get ONE CHANCE to impress her. Attracting a Total 10 woman is one thing, but keeping her happy (and well-behaved) in a relationship is a whole different ballgame.
You need to know how to keep her interested in you before you meet her, because living with the unforgettable memory of that one great girl you let get away may haunt you for the rest of your life. This is the sad reality that most guys know all too well.
How to Make Your Girlfriend Happy and Keep Her Attracted to You
Even after you figure out how to
get
a girlfriend, you must learn how to make your girlfriend happy while in a relationship. Building a relationship with your dream girl is quite different than learning how to attract women, but sadly, most guys fail to make the distinction.
In
How To Be A Better Boyfriend
, you'll learn how to be a good boyfriend to a high-value woman, the secrets to making your girlfriend happy, and how to understand women in relationships. This is the best relationship advice for men who want to become better boyfriend material. Because let's face it; if that one-of-a-kind woman you want and love doesn't see you as "Boyfriend Material", your chances of building and maintaining a fun and fulfilling relationship with her are next to zero.
Here's a quick peak at what you'll learn inside:
The keys to making a woman happy without becoming her doormat or losing her romantic interest. (This will help you to avoid getting dumped or ending up in the dreaded "FRIEND-ZONE"!)
You'll discover how to stop giving your power away to women, and what to do to get more RESPECT and affection from your girlfriend.
The nine simple words that can make your girlfriend AMAZINGLY happy if you use them often.
How women think and what their emotional needs are in a relationship.
How to understand women and the one thing you can improve about yourself to make your girlfriend want you more. (Hint: It has nothing to do with your looks or how much money you make!)
The answer to the age-old question of "what do women want" and how to be the man who can deliver it!
How to cultivate a more cheat-proof, drama free relationship where the woman you desire wants nothing more than to treat you like a king.
How to effectively deal with arguments and disagreements with your girlfriend like a man, and earn her unwavering loyalty.
How to learn your girlfriend's love language so that she feels much more loved and appreciated.
The secret to staying true and devoted to her while maintaining her interest and affections. This is a great way to strengthen your relationship with the woman you love.
How to make her want you more by learning how to be romantic.
And much, much more…
Would You Like to Know More?
Feel Free to contact me for book requests, informations or feedbacks.
Without You And Your Support We Can't Continue
Thanks For Buying Premium From My Links For Support