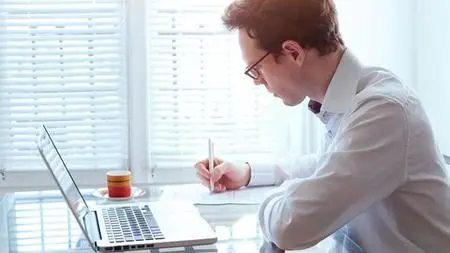 How To Become A Full Time Writer From Scratch
Last updated 8/2017
MP4 | Video: h264, 1920x1080 | Audio: AAC, 44.1 KHz
Language: English | Size: 3.24 GB | Duration: 3h 15m
Learn How You Can Become a Freelance Writer, Author, or Copywriter Even If You Have ZERO Industry Knowledge
What you'll learn
Be ready to start charging for your writing work (usually between $30-$60 an hour to start)
Find your first paid writing clients
Understand the writing industry and the best ways you can earn a living writing
Increase your current, and long term, writing incomes
Learn how to intelligently charge clients and make the most of your time
Be able to plan out a long and prosperous writing career
Requirements
This is a comprehensive course for those with 0-2 years experience in the freelance writing world.
Description
  Imagine being able to live wherever you want while earning a great living doing something you love.      From the beaches of the tropics to the bustling cafes of Europe, it is very possible to earn a full time income writing for 15-20 hours a week.    I know, I've been doing it for over 5 years.      In this course I'm going to introduce you to the world of writing and I'll share with you my own experiences being a full time writer.      Over this time I have worked as a freelance copywriter, article writer, and author. I've done everything from print advertisements to sales letters to website copy.    I've also published 11 of my own books which now provide a significant passive income, and I've also built a loyal audience through writing my own blog and newsletter.      In fact, writing has funded the last few incredible years of my life during which time I've lived all over the world…      Including the tropical paradise of Costa Rica, and literary destinations like Italy, Barcelona, Prague, and New York.    I was inspired to create this course after working with aspiring writers and discovering how little knowledge they often had about the industry.       Which, might I add, is huge.      Writing is essentially communication…which in a way is, well, everything. So this creates a tremendous opportunity for income, as well as a tremendous opportunity for confusion and mistakes.    So where is the best place to start?  Is it better to write books for yourself or articles for companies?If you're tight on cash, what's the best route to get started so you can support yourself? What kind of clients are best to work with?  Who pays the best? Who is the biggest pain in the ass?    There are all these different avenues to go down, all using essentially the same core skill: Your words.      The unfortunate thing, at least for those who haven't found this course, is there is a huge gap between the different opportunities.      Some areas pay absolute garbage while offering little in the way of stability or satisfaction…      Whereas other kinds of writing work can be really fun and fulfilling, while paying upwards of a $100 dollars an hour.       Similarly, some kind of work is great to start with and allows you to jumpstart your career at $40-60 an hour…but then you risk getting stuck there.      Whereas other areas are tough to get started, but once you do, the sky really is the limit in terms of income.      Once you join, you'll learn about each area of writing as an income opportunity. You'll learn about the kind of work you can do and the kind of clients you'd be working with.      From here you'll be in a much better position to evaluate writing as a potential career for you, and, if you decide it is for you, you'll be in a great position to plan out your next 6-12 months.      You'll have the knowledge you need from the start to bypass many of the hurdles and challenges facing new writers and save yourself from wasting time and money.    Once inside, here are some of the things you'll learn:  You'll learn all the different kinds of work you can do as a writer, what kinds of companies you can work for, and what kind of money you can expect to earn. As I've said earlier, there is a big difference in pay rates between different kinds of work, so this part is really important.You'll learn the basics of getting new clients and marketing. This course isn't focused on this area, but I'll teach you enough to get started and get your first 2-3 clients, and at least $1,000 in income so you can get a taste of what it feels like to write for a living. You'll learn about client management: The different ways you can be charging and how to bill. When should you charge by the word? The page? The hour? By the project?We'll take a look at ghostwriting. When is it better to write under the client's name, and when should you insist on writing under your own name?You'll find out what your day to day life could, and perhaps should, look like when we go through the lifestyle aspect of writing in terms of productivity and staying focused. You'll learn the best way to set up your days to be a productive and successful writer.I'll also share with you some of my own insights into what makes a successful writer. Why do some writers seem to breeze along making 6-figures while others are just barely scraping by? What is the real reason for this difference and how can you be the kind of writer that prospers?    There's a lot more, but I think by now you have a good idea about who I am and what this course is about.      By the end of this course you'll have a much better understanding of what life is like as a writer, and all the opportunities available to you today to begin your career as a writer.      By taking this course you'll avoid making painful beginner mistakes like:  Charging too little money.Going through painful dry spells with no income.Working in the wrong area or with the wrong kinds of clients.Doing work that kills your soul, when you could be getting paid better to do interesting work you actually enjoy!  By the end of this training you'll be well on your way to being a professional writer. You're going to understand the industry, the opportunities, and around how much you should charge prospective clients for different kinds of work.      You'll also know which areas are the most suited to your current situation, based on the income potential, income steadiness, and the ease in which you can get started.      Watch a few of the free videos, or better yet, trust your instincts and join today.      Remember, you're protected by a 30 day money back guarantee so if you join and decide after a few days that you really don't like me, or the content isn't for you, you can always get your money back.      I think you'll find this course really inspiring and encouraging. It is something I'm really passionate about and I hope that comes through in the lessons.      Oh, and one more thing. Once you're inside, feel free to ask lots of questions in the discussions. I'm here to help and I do my best to provide individual feedback for everyone, based on your unique situation.    Congratulations on taking the first step and I look forward to seeing you inside.       Dan Johnston 
Overview
Section 1: Jumpstart! Let's Get Right Into Some Case Studies and Examples
Lecture 1 Case Studies: How Do You Get Started as a Freelancer?
Lecture 2 To $1,000 a Month Part Time
Lecture 3 How to Watch Videos at 2x Speed and Finish This Course in Half The Time
Lecture 4 Troubleshooting: If Videos Are Loading Slowly / Buffering
Lecture 5 $5,000 a Month
Lecture 6 Your Writing Options (An Overview)
Lecture 7 The Incredible Life of a Writer
Section 2: Getting Started
Lecture 8 Course Introduction and Overview
Lecture 9 About Me
Lecture 10 Is This Course For You?
Section 3: Your Different Options, and How To Decide
Lecture 11 Working For Companies versus Working For Consumers
Lecture 12 How To Interact and Provide Feedback In This Course
Lecture 13 Choosing Your Path - Part One
Lecture 14 Choosing Your Path - Part Two
Lecture 15 The Difference Between Talent and Skill For Writers
Section 4: Working as a Freelancer
Lecture 16 The Pros and Cons of Freelancing
Lecture 17 What actually is "copywriting"?
Lecture 18 Writing Blogs, Newsletters, and Social Media Content For Companies
Lecture 19 Earning an Income Writing Website Copy For Companies
Lecture 20 Good Karma
Lecture 21 Earning an Income Writing Books and Ebooks For Other People
Lecture 22 Ghostwriting and Other Approaches To Writing For Someone Else
Lecture 23 Earning an Income Writing Sales Letters For Companies
Lecture 24 Writing Articles for Publications
Lecture 25 Earning an Income as a Translator
Lecture 26 Earning an Income as an Editor
Lecture 27 Freelancing versus Contract Work - How To Find The Perfect Balance
Section 5: Getting Clients, Getting Paid, and Billing
Lecture 28 How You Should, and Should Never, Bill Your Clients
Lecture 29 Dollars, Markets and Local Rates
Lecture 30 Initial Expenses To Avoid and Smart Investments (Mostly for Freelancers)
Lecture 31 5 Strategies For Getting Your First Clients and Making Your First $1,000
Lecture 32 How $100,000 a Year Is Possible
Section 6: Writing For Yourself
Lecture 33 The Pros and Cons of Writing For Yourself
Lecture 34 Writing For Yourself and Starting a Blog
Lecture 35 Earning More Money With Additional Products
Lecture 36 Earning an Income Running Your Own Newsletter
Lecture 37 Writing Guides, E-Books and Reports
Lecture 38 Writing Your Own Books and Reaping The Rewards
Section 7: Bonus: Staying Productive, Focused and Happy as a Writer
Lecture 39 A Day In The Life Of A Full Time Writer
Lecture 40 The Lifestyle of a Writer: Freedom and Location Independence
Lecture 41 The Traits of a Successful Writer
Section 8: New Content - 2017 and Beyond
Lecture 42 The Most Important Part of Succeeding as a Freelance Writer
Lecture 43 Making Writing a Daily Habit
Section 9: Bonus Lecture *Updated* Summer 2017 Free Training and Content
Lecture 44 Bonus Lecture *Updated* Summer 2017 Free Training and Content
Underpaid, or Under-Appreciated, Writers and Journalists,Aspiring Writers,Recent University Graduates, Especially Liberal Arts Majors,Travel and Freedom Lovers,Freelancers,Recent Retirees Who Finally Want To Start Writing,Anyone With a Passion For Words That Has Been Sitting Idle Too Long!