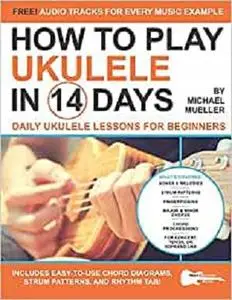 How To Play Ukulele In 14 Days: Daily Ukulele Lessons for Beginners (Play Music in 14 Days) by Michael Mueller
English | December 8, 2019 | ISBN: 1672893380 | 61 pages | PDF | 5.05 Mb
How to Play Ukulele in 14 Days
, a beginner method with free audio downloads or streaming, is presented in an easy-to-follow format to help you learn to play ukulele quickly!
This beginning ukulele book can be used with a Soprano, Concert, or Tenor ukulele.
How to Play Ukulele in 14 Days
teaches you all the foundational skills you need to play your favorite songs — or even write your own — on the ukulele.
These lessons start off with the absolute basics:
Parts of the Uke
Tuning (G–C–E–A)
Left-hand & Right-hand Technique
Basic Chord Shapes
How to Strum

Includes popular songs, chord charts, and easy strum patterns.
After covering the essentials, you'll learn how to play easy chords and strum patterns found in popular songs. The easy-to-follow beginner ukulele music book contains written instruction, music notation, helpful tips, chord charts, and detailed diagrams.
This is the perfect uke book for teaching a beginner how to play the ukulele. Plus, all of the examples are presented in an easy-to-read and understand "tab" notation system, so you don't have to be able to read music!

You'll learn:
Major Chords
Minor Chords
Seventh Chords
Strumming Patterns
Fingerpicking Techniques
The Major Scale
Chord Progressions
The Cheat Strum

About Michael Mueller: Over the past 20 years, Michael Mueller has authored over 20 instructional guitar books, with over 375,000 units sold. Titles include the Hal Leonard Rock Guitar Method, Acoustic Guitar Tab Method, and Scale-Chord Relationships. He has also edited countless others, including the top-selling Guitar Aerobics (Troy Nelson) and Ukulele Aerobics (Chad Johnson) titles. Additionally, he has served as the Editor at top guitar magazines Guitar One and Guitar Edge, and he's contributed to Guitar World, Jazz Times, and Sirius XM, among others.



Feel Free to contact me for book requests, informations or feedbacks.
Without You And Your Support We Can't Continue
Thanks For Buying Premium From My Links For Support