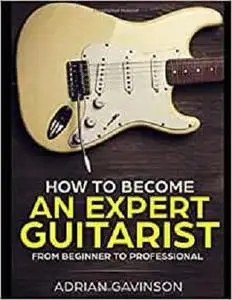 How to Become an Expert Guitarist: From Beginner to Professional by Adrian Gavinson
English | September 25, 2018 | ISBN: 1724013955 | 43 pages | EPUB | 0.20 Mb
Have you ever dreamed of becoming an expert at the guitar?
With this essential step by step guide, mastering the guitar to an expert level can become a reality.
Most guitarists get stuck in the intermediate stages of guitar playing and fail to ever step up their musical abilities. The reason being that they think it's too difficult. As you will learn in this book, becoming an expert at the guitar is much simpler than you think. This book will go through the essential methods and techniques that you should practice to become the best guitarist you can be.
Wherever you are in your guitar journey, this book will help you advance to a professional level faster than any other guide.
Includes:
- How to find and master your own style
- Mastering the fretboard
- Advanced rhythm and lead guitar techniques
- Essential advanced chord progressions
and so much more.
Feel Free to contact me for book requests, informations or feedbacks.
Without You And Your Support We Can't Continue
Thanks For Buying Premium From My Links For Support