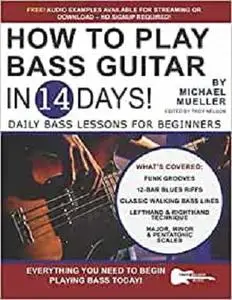 How to Play Bass Guitar in 14 Days: Daily Bass Lessons for Beginners (Play Music in 14 Days) by Michael Mueller
English | March 28, 2020 | ISBN: N/A | ASIN: B086PMKV21 | 55 pages | PDF | 3.80 Mb
How to Play Bass Guitar in 14 Days: Daily Lessons for Beginners
– with free audio downloads or streaming – is presented in an easy-to-follow format to help you learn to play bass quickly.
If you're looking for the best bass guitar book for beginners, look no further! Seasoned author and editor Michael Mueller has written an easy-to-follow beginning bass book methodically designed to teach you all the essential rhythms, scales, and techniques you'll need to start playing your favorite songs! Teach yourself to play bass guitar with this jam-packed book with tons of fundamental bass skills and exercises.
You'll learn:
Fingerstyle Technique
Real-World Bass Lines
Fundamental Rhythms: Basic to Advanced
Major, Minor & Pentatonic Scales

Plus!
Harmonics
Muting Technique
Legato Technique
Rake Technique
The Blues Scales
The Shuffle Rhythm
Slap-and-Pop Technique

Play-along tracks for this bass instruction book included!
This is the perfect first lesson for beginner bass players. Also great for teaching a beginner how to play the bass! All music examples are presented in easy-to-follow tab. So, as new bass concepts are introduced, you'll be able to quickly apply them to your bass.
This bass book is from the top-ranked series Play Guitar in 14 Days from Troy Nelson Music.
About Michael Mueller: Over the past 20 years, Michael Mueller has authored over 20 instructional guitar books, with over 375,000 units sold. Titles include the Hal Leonard Rock Guitar Method, Acoustic Guitar Tab Method, and Scale-Chord Relationships. He has also edited countless others, including the top-selling Guitar Aerobics (Troy Nelson) and Ukulele Aerobics (Chad Johnson) titles. Additionally, he has served as the Editor at top guitar magazines Guitar One and Guitar Edge, and he's contributed to Guitar World, Jazz Times, and Sirius XM, among others.



Feel Free to contact me for book requests, informations or feedbacks.
Without You And Your Support We Can't Continue
Thanks For Buying Premium From My Links For Support