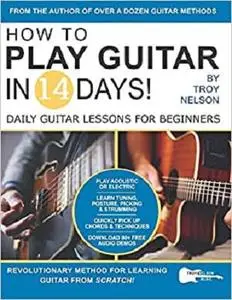 How to Play Guitar in 14 Days: Daily Guitar Lessons for Beginners (Play Music in 14 Days) by Troy Nelson
English | August 16, 2019 | ISBN: 1686421923 | 64 pages | PDF | 4.05 Mb
Beginner Guitarists: Learn how to play guitar and sound great right away with this step-by-step guide!
Daily guitar lessons for beginners from a trusted source.
Learn to play guitar: acoustic or electric!
This guitar book for beginners will teach you:
Tuning
Posture
Picking
Strumming
Quickly pick up chords and techniques in this beginning guitar book.
What separates How to Play Guitar in 14 Days from other guitar methods is not how quickly you'll be able to play something on the instrument, but how quickly you'll be able to play something that sounds great as your learn guitar!
The goal of this beginner guitar book is to get you playing confidently—and sounding great while doing it—as fast as possible because frustration is the No. 1 reason why beginner guitarists quit.
This is a BRAND NEW method for learning the guitar.
Written by a 30-year guitar player who has seen it ALL and knows what works and what doesn't. Having edited countless guitar method books, Troy thought long and hard about what was missing in beginner books, and then he wrote THE beginner guitar method book that can get you playing guitar quickly–and sounding good!
What better way to alleviate frustration than by playing something that is relatively easy and sounds great?
"I didn't want to write a beginner guitar method book until I was sure I had a revolutionary way of teaching and learning, one that beats all other beginner methods–something that really will get you playing and sounding good QUICKLY." – Troy Nelson
This guitar book for beginners is perfect for those learning how to play guitar from scratch. The perfect adult beginner guitar lesson book, How to Play Guitar in 14 Days is packed with usable tips and tricks to teach yourself guitar.

Read it! Hear it! Play it!Music examples are presented in easy-to-use tab. This practical, step-by-step guide to learning beginner guitar includes quick-and-easy access to audio tracks via download or streaming – right from troynelsonmusic.com. No signup required!
REMEMBER Free access to instant audio downloads from Troy's website included.
BONUS Includes customer support! Questions during practice? Email us from our website and we will happily help you.

From the author of over 30 guitar lesson booksHow to Play Guitar in 14 Days is written how Troy would want to learn guitar if he was starting from scratch, in his signature, tried-and-true, sound-great-right-away style. Troy has written more than 30 books for the guitar and edited more than 100 others.

Thanks for the 5-star reviewsAs an author, Troy Nelson has sold over 250,000 guitar books and received more than a 1,000 reviews. A 30-year guitar player, he's the former editor-in-chief of Guitar One magazine, holds a degree in music, and is the author of the #1 best-seller Guitar Aerobics.
Troy's passion is helping others learn to love the guitar as much as he does.



Feel Free to contact me for book requests, informations or feedbacks.
Without You And Your Support We Can't Continue
Thanks For Buying Premium From My Links For Support