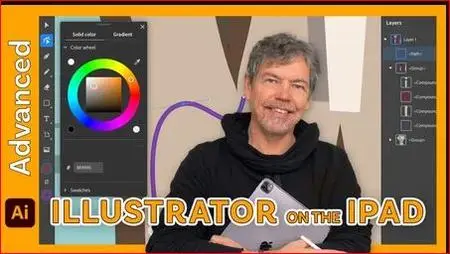 Illustrator on the iPad: Advanced
MP4 | Video: h264, 1280x720 | Audio: AAC, 44100 Hz
Language: English | Size: 1.55 GB | Duration: 1h 44m
Hi - I'm Tim
I'm an Adobe Certified Instructor and Adobe Certified Expert and designer working in and around London.
This course is an Advanced course in Adobe Illustrator on the iPad with tutorials and step-by-step projects, for those who have a good knowledge of Illustrator on the iPad or those who have completed my Intermediate course. You do not have to be able to draw to complete this Illustrator on the iPad course. If you need an introduction or an intermediate course, please see the Adobe Illustrator on the iPad: Beginner course.
https://skl.sh/3u6iwth
and Adobe Illustrator on the iPad: Intermediate coursehttps://skl.sh/3vMmV5e
Together we will look at a specific set of tools and techniques. Then I will give you some projects to complete to reinforce your knowledge.
All the content can be adapted for both print or web.
You will learn the more advanced features of Illustrator for the iPad and solidify your knowledge by creating social media graphics and advanced 3D style infographics.
All you need is an iPad with an Apple Pencil and copy of Adobe Illustrator for the iPad.
During the videos there will also be key phrases that appear to help you remember tools, shortcuts and techniques.
At the end of this course you will have very good understanding of the more advanced aspects of Illustrator on the iPad and will be able to create complex infographics and work with depth as well as with advanced typography.
All the exercise files come from the Royalty Free website Unsplash.com with thanks to the following photographer: Anton Repponen