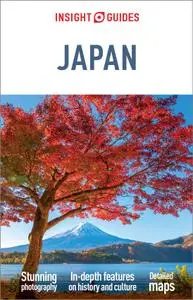 Insight Guides Japan (Travel Guide eBook) (Insight Guides), 7th Edition by Insight Guides
English | February 1st, 2020 | ISBN: 1839050985 | 400 pages | EPUB | 45.56 MB
Travel made easy. Ask local experts.
Get Olympic ready with this inspirational full-colour guidebook to Japan. With a free destination app and eBook, it's all a traveller needs to explore Japan in-depth during their Tokyo 2020 Olympic adventure.
From deciding when to go, to choosing what to see when you arrive, this guide to Japan is all you need to plan your perfect trip, with insider information on must-see, top attractions like Tokyo, Kyoto and Mount Fuji, and cultural gems like watching a thrilling sumo match, feeling at peace in spiritual temples and being amazed by Japan's high-tech society.
Features of this travel guide to Japan:
• Inspirational colour photography: discover the best destinations, sights and excursions, and be inspired by stunning imagery
• Historical and cultural insights: immerse yourself in Japan's rich history and culture, and learn all about its people, art and traditions
• Practical full-colour maps: with every major sight and listing highlighted, the full-colour maps make on-the-ground navigation easy
• Editor's Choice: uncover the best of Japan with our pick of the region's top destinations
• Key tips and essential information: packed full of important travel information, from transport and tipping to etiquette and hours of operation
• The ultimate travel tool: download the free app and eBook to access this and bonus content from your phone or tablet
• Covers: Kanto Plain and Chubu; Tokyo; the north; Kansai region; the south
Enjoy
My Blog
. No any convert or low quality!