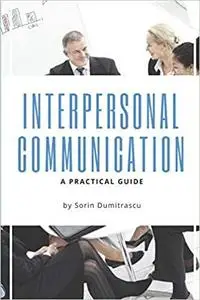 Interpersonal Communication: A Practical Guide by Sorin Dumitrascu
English | April 21, 2017 | ISBN: 1521122415 | 244 pages | EPUB | 0.23 Mb
One of people's primary needs is social interaction. By communicating well face-to-face, we build healthier and more productive relationships, work more effectively, and gain more satisfaction from life. However, communicating well is a skill that requires learning and practice. It isn't something that people intuitively know how to do well.To communicate well, both you and your listeners need to understand and trust one another. Communication is defined as the transmission or sharing of ideas, thoughts, or feelings between people. The verb communicate originates from the Latin root communicare, which means to share or make common.All communication is a two-way process. Information is not only given by one person, but also received and understood by another. Interpersonal communication is communication that occurs specifically between small numbers of participants, usually face-to-face.This means that participants are able to share information not only through words but through sight and sound too. In the context of interpersonal communication, participants can give immediate feedback, which may not necessarily be verbal. For example, a person could nod to show agreement or understanding.The quality of interpersonal communication has a crucial role to play in the success of any organization. It directly affects the quality of an organization's decision making, problem solving, and relationships. So good communication is essential for an organization and its employees to act effectively.It's difficult for any organization to succeed if its employees can't communicate skillfully because communication impacts so many factors within an organization. When information is shared with employees in a positive and skillful way, it boosts productivity and profitability, giving meaning, motivation, and a personal context to people's work. When communication is poor or absent, employees may feel mistrustful, alienated, or less motivated to do a good job.Being able to give and receive accurate and comprehensive information is essential for decision making. Poor communication typically leads to poor decision making. Decisions made without discussion harm morale. Most decisions have to be considered within the context of how they will affect others. So stakeholders need to be consulted skillfully in order to bring their true opinions and insights to light.Ineffective communication can give rise to mistakes, sometimes with very serious consequences. Many problems are prevented by an open, trusting atmosphere in which employees have the confidence to voice their doubts and questions.Poor interpersonal communication harms relationships between people in an organization, causing stress and mistrust. The result is that important information may be lost, distorted, or concealed. Negative criticism, gossip, or breaches of confidence can also cause lasting damage to organizations and to people. Good communication creates good working relationships, resulting in innovative, enthusiastic people who enjoy working together and who empower one another to succeed.Good communication conveys information that people need to know to be effective. It encourages good feedback, enabling employees to meet their goals more effectively. If communication within an organization doesn't allow people to give and receive feedback safely, ineffective behavior is not checked, and problems tend to mount.Good communication and confidence go hand in hand. As your confidence rises, your communication improves. So many of the techniques for developing confidence also play a significant role in improving interpersonal communication.