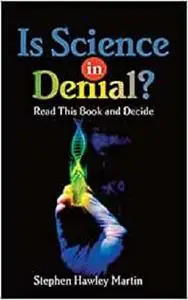 Is Science in Denial? Read this Book and Decide by Stephen Hawley Martin
English | March 2, 2020 | ISBN: N/A | ASIN: B085DT6Z6F | 80 pages | EPUB | 0.12 Mb
The fundamental principle of Scientific Materialism, which dominates the field of science today, is that nothing exists except material substance—"matter." If true, it follows that consciousness and intelligence could not have existed until evolution produced a brain. This book reveals powerful evidence that indicates otherwise, which suggests that western science as we currently know it needs to be updated.
Are we robot-like creatures with computer-like brains that miraculously produce consciousness that remains inside our skulls? When we die, do the lights go out, and that's it? That is what ardent Scientific Materialists would have us believe. But could the scientists in that group be mistaken, or even worse, in denial? Are they aware of scientifically-sound, double-blind experiments that strongly suggest otherwise? This book summarizes a number of these studies, including sixty years of research conducted by a division of the University of Virginia School of Medicine.
Read this book and decide for yourself. And if what you learn causes you to think that maybe modern science does need an update, pass the book along to those in positions to facilitate this. Your actions together with those of others could result in a revolution in modern science, a revolution that brings about a new way of viewing reality that could change the world and make it a better place.
Feel Free to contact me for book requests, informations or feedbacks.
Without You And Your Support We Can't Continue
Thanks For Buying Premium From My Links For Support