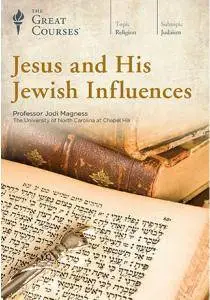 Jesus and His Jewish Influences
24xHDRip | MP4/AVC, ~1252 kb/s | 1280x720 | Duration: 12:13:01 | English: AAC, 192 kb/s (2 ch) | + PDF Guide
Size: 7.42 GB | Genre: Religion
For anyone interested in understanding the profound effect Jesus had on the world, it's important to realize that his actions and teachings didn't emerge from a vacuum. Rather, they were the product of a fascinating dialogue with—and reaction to—the traditions, cultures, and historical developments of ancient Jewish beliefs. In fact, early Judaism and Jesus are two subjects so inextricably linked that one cannot arrive at a true understanding of Jesus without understanding the time in which he lived and taught.
In search of a more complete comprehension of Jesus's legacy, this course explores fundamental questions such as:
How was early Judaism markedly different from the Rabbinic Judaism practiced today?
What kind of world did early Jewish sects envision, and how does Jesus's world view relate to theirs?
How did events like the Babylonian exile and the reign of Herod the Great affect the development of Judaism up to Jesus's time?
What did it really mean to be a Jew in ancient Israel—and what did it mean for Jesus?
Answers to these and other thought-provoking questions about ancient Judaism and the roots of Jesus's ministry can be found in the 24 intriguing lectures of Jesus and His Jewish Influences. Crafted by acclaimed archaeologist and biblical scholar Jodi Magness of The University of North Carolina at Chapel Hill, this fascinating course approaches the subject of Jesus from a historical, rather than scriptural, perspective; one rooted in the study of ancient texts and archaeological discoveries. You'll embark upon an in-depth investigation of the ancient world that Jesus was born into, and you'll revisit the tumultuous events of early Jewish history with the specific purpose of gleaning hidden insights into how they shaped an individual—and a movement—whose legacy endures to this very day.
Introduction to the Study of Religion
Religion in the Ancient Mediterranean World
Great World Religions: Christianity
Religions of the Axial Age: An Approach to the World's Religions
Great World Religions: Hinduism
Great World Religions: Islam
Great World Religions: Buddhism
Great World Religions: Judaism
Sex & God: How Religion Distorts Sexuality
Exploring the Roots of Religion
From Jesus to Constantine: A History of Early Christianity
Historical Jesus
History of Christianity in the Reformation Era
The World of Biblical Israel
Popes and the Papacy: A History
Early Christianity the Experience of the Divine
Introduction to Judaism
Beginnings of Judaism
Fall of the Pagans and the Origins of Medieval Christianity
Book of Genesis
Biblical Wisdom Literature
Lives of Great Christians
Buddhism and Modern Psychology
Lost Christianities: Christian...he Battles over Authentication
Comparative Religion
Cultural Literacy for Religion...ll-Educated Person Should Know
Welcome to the best eLearning video (English, German, French, Spanish language) and many more:
LINK
Do not forget to check my blog! Updated regularly! Add in bookmarks my blog :)
PM me if Links not working!
No mirrors pls!