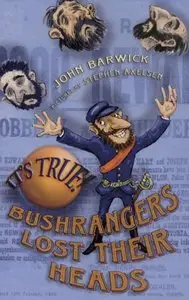 John Barwick - It's True: Bushrangers Lost Their Heads
Allen | 2006 | ISBN 1741142989 | Pages: 82 | PDF | 5.36 MB
Psst! It's True! This is the best book on bushrangers you'll ever read!
Did you know that the first ever bushranger in Australia was an African? Or that the Kelly gang held parties with their hostages?
Read about sieges, man-hunts, shootouts and hangings. Find out which bushranger used to send people home naked after he'd robbed them. Discover which one was most popular with the ladies (they sent him flowers in prison and cried when he was hanged). Find out the real names of Captain Moonlight and Mad Dan Morgan, and what bold Jack Donohue really said as he died.