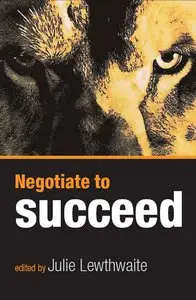 Julie Lewthwaite - Negotiate To Succeed
Thorogood Publishing | 2001 | ISBN: 185418153X | Pages: 171 | PDF | 1.41 MB
Designed with the busy manager in mind, this guide to better negotiating skills provides useful tips and suggestions for those who would like to improve their current skills and for beginners who are looking for somewhere solid to start. It includes tips and techniques that cover creative bargaining, dealing with conflict, how to be assertive without being aggressive, how to avoid threatening behavior, negotiating with integrity, and arbitration. This is a helpful resource for anyone who is ready to move beyond the daily grind and is ready to learn how to go out and get what they really want.
Julie Lewthwaite is a senior consultant at Project North East, a local enterprise and economic development agency. She is involved in the design and development of training materials for prospective and actual owner-managers and for supervisors and managers who wish to develop their skills.