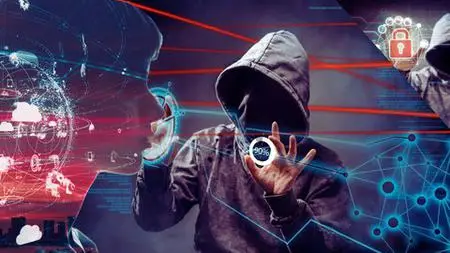 Financial Crime Investigations And Open Source Intelligence
Published 2/2023
MP4 | Video: h264, 1280x720 | Audio: AAC, 44.1 KHz
Language: English | Size: 1.12 GB | Duration: 1h 40m
Learn the in-depth process of Financial Crime and Fraud Investigations and Open Source Intelligence (OSINT)
What you'll learn
Obtain Certificate of Completion issued by The Elite Compliance Group: .pdf format, personalized URL and unique QR code for verification.
Financial Crime Investigations
Introduction to Intelligence
The intelligence process and the intelligence cycle
Extras: optional articles on sanitization, dissemination, axioms and the ten standards for the intelligence analyst
Basic analysis techniques
Inference development
Presentation of results: oral and written reports
Open Source Intelligence (OSINT)
OSINT in the intelligence cycle
Open sources
Preparing the environment: Virtual Machines (VMs), the browser, VPNs and more tools and tips
Research: DNS records, archived and cached pages, social media, image information, the dark web, and virtual currencies
Requirements
Previous knowledge can help completing the course more quickly, although it is not necessary.
Description
The course "Financial Crime Investigations and Open Source Intelligence" is divided into 2 parts:In the first one you will learn everything you need to know to conduct a Financial Crime Investigation, specifically going through the criminal intelligence process, including all its stages, detailing analysis techniques, how to develop premises and inferences, as well as helping you present the results in different forms.In the second part you will learn how to use Open Source Intelligence, which includes the preparation of the tech environment for the research, and going through the tools that you need to conduct a secure and safe investigation, as well as which are best to gather the information you need, such as: virtual machines, VPNs, DNS records, exif data, the dark web, virtual currencies, and much, much more!Includes the theoretical part, practical examples, and methods and tips on useful tools.Once you have completed the entire course, you can request your verified Certificate of Completion issued by The Elite Compliance Group. You will be provided in 48 hours with the .pdf version (which includes the unique QR code) and the personalized URL where your certificate will be published. Other electronic formats are available on request.This Certificate is provided in addition to the one offered by Udemy.The course also contains small questionnaires for you to check your acquired knowledge for some of the sections.Full Course IndexPart 1: Financial Crime and Fraud InvestigationsAn introduction to intelligenceInformation vs. IntelligenceStagesThe origins of intelligence analysisThe analystCriminal intelligence analysisIntelligence analysis and organized crimeThe intelligence processWhat is the intelligence process?The intelligence cycleDirection and collectionDirection/taskingCollection - Data gatheringSourcesCollection planEvaluationEvaluation processEvaluation tablesCollation and AnalysisCollationData integration and analysisInferencesDisseminationExtra section - Optional articlesSanitizationDisseminationAxioms for an intelligence analystTen standards for intelligence analystsBasic analysis techniquesLink analysisInference developmentPremisesInferencePresentation of resultsOral briefingsBriefing structureAnalyze the audienceOutline your briefingWritten reportsContents of a written reportPart 2: Open Source Intelligence (OSINT)IntroductionHow OSINT fits into the intelligence cycleCan OSINT support law enforcement?Where does OSINT come from?The value of OSINT for both public and private sectorsHow to fight infoxicationOpen sourcesPreparing the environmentVirtual MachinesThe browserVPNs and More tools and tipsResearchDNS recordsArchived and cached pagesSocial MediaImage informationThe Dark WebVirtual Currencies
Overview
Section 1: Part 1: Financial Crime and Fraud Investigations - Introduction
Lecture 1 Information vs. Intelligence
Lecture 2 Stages
Lecture 3 The origins of intelligence analysis
Lecture 4 The analyst
Lecture 5 Criminal intelligence analysis
Lecture 6 Intelligence analysis and organized crime
Section 2: The intelligence process
Lecture 7 What is the intelligence process?
Lecture 8 Direction and Collection
Lecture 9 Evaluation
Lecture 10 Collation and analysis
Lecture 11 Dissemination
Section 3: Extra section - Optional articles
Lecture 12 Sanitization
Lecture 13 Dissemination
Lecture 14 Axioms for an intelligence analyst
Lecture 15 Ten standards for intelligence analysts
Section 4: Basic analysis techniques
Lecture 16 Link analysis
Section 5: Inference development
Lecture 17 Premises
Lecture 18 Inference
Section 6: Presentation of results
Lecture 19 Oral briefings
Lecture 20 Written Reports
Section 7: Part 2: Open Source Intelligence (OSINT) - Introduction
Lecture 21 How OSINT fits into the intelligence cycle
Lecture 22 Where does OSINT come from?
Lecture 23 Open sources
Section 8: Preparing the environment
Lecture 24 Preparing the environment
Lecture 25 Virtual Machines
Lecture 26 The browser
Lecture 27 VPNs and More tools and tips
Section 9: Research
Lecture 28 DNS records
Lecture 29 Archived and cached pages
Lecture 30 Social Media
Lecture 31 Image information
Lecture 32 The Dark Web
Lecture 33 Virtual Currencies
Section 10: Certificate of Completion (.pdf format, personalized URL and unique QR code)
Lecture 34 Certificate Sample
Financial Crime Investigator,Anti-Money Laundering Officer,Money Laundering Reporting Officer (MLRO),Fraud Analyst,Fraud Investigator,Fraud Specialist,Regulatory Compliance,Compliance Managers,Criminal Intelligence Analyst,Compliance Analysts,Fraud Prevention,Corporate Fraud,Financial Audit,Financial Auditor