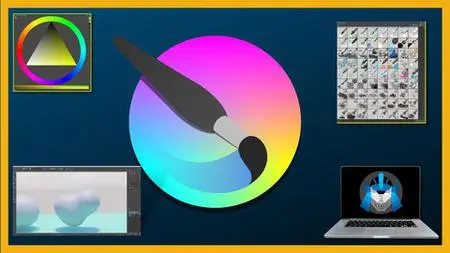 Krita 5 For Absolute Complete Beginners
Published 6/2022
MP4 | Video: h264, 1280x720 | Audio: AAC, 44.1 KHz
Language: English | Size: 2.07 GB | Duration: 4h 54m
Learn the basics of Krita 5 and jumpstart your digital art journey
What you'll learn
You will learn the basics of Krita 5 Quickly
How to fully understand how brushes work
How to create patterns for textures to use in 2D or 3D art
The easy way to create sequential art (Comics, manga, graphic novels)
Requirements
No Prerequisites other than a willingness to learn.
Description
So have you ever wanted to learn the basics of Krita 5 then this is the course for you. If you've ever tried to learn Krita in the past and experienced a lot of brush lag or maybe even critter crashed on you then this is the course for you. I've designed this course to be a very step-by-step approach to learning this very complex piece of software. I know that you probably don't have a lot of time and you want to learn the things that you want to learn so that you can create your own comics animation and digital art.Krita is a very robust digital art tool and it's free. Trying to hunt down a lot of different tutorials and trying to piece together your own learning can lead to a lot of frustration. For years students have been asking me to create this course, but I ran into some of the same problems that you ran into such as brush lag and crashing and just not understanding how critter was set up.If you are tired of beating your head against the wall, then do not hesitate & up for this course. You're going to learn really cool things like how to do sequential art, how to make your own textures for 3D art, and how do you use all of the basic tools so that you can speed up your workflow.You don't need to become an expert at Krita you just need enough to get started.
Overview
Section 1: Introduction
Lecture 1 How to Get the most from this course
Lecture 2 How to Download and Install Krita 5
Lecture 3 An Overview of Krita 5 (The big picture)
Section 2: Let's First Troubleshoot and fix that Brush lag (Optional)
Lecture 4 The First Fix
Lecture 5 Performance troubleshooting
Lecture 6 General settings and options that are useful
Lecture 7 More troubleshooting
Section 3: The basics of Using the most Important Brushes and workflow
Lecture 8 Popular question : How do I hold my Stylus (Pencil)?
Lecture 9 Basic Pencil Settings
Lecture 10 Advanced Pencil Settings
Lecture 11 Ink Brushes and how they work
Lecture 12 The Paint Brushes
Lecture 13 Other Brushes you may find useful
Section 4: Understanding and Using Layers in Krita
Lecture 14 Layer Concepts, What is a Layer?
Lecture 15 Layer Basics in Krita
Lecture 16 Understanding Layer Modes
Lecture 17 Solving the issue
Lecture 18 Useful Layer tips
Section 5: The Amazing Perspective Tools
Lecture 19 A Basic Perspective Crash course
Lecture 20 Let's start with two point
Lecture 21 Two Point Perspective cont'd
Lecture 22 The Vanishing Point setting (3 Point)
Lecture 23 Let's not forget One Point Perspective
Lecture 24 An Unofficial Perspective tool
Section 6: How to get most things done with these features.
Lecture 25 Design with the symmetry tools
Lecture 26 The wrap around pattern tool
Lecture 27 Document options and sizes
Lecture 28 Sequential art the easy way
Lecture 29 Some closing words and recording your art so you can post it later
Absolute Complete beginners to digital art,People who want to learn the basics of Krita 5 quickly