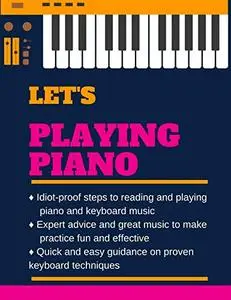 LET'S PLAYING PIANO: Perfect solution For The People Who Wish They Had Taken Piano Lessons by Hanan Tabouhot
English | 2020 | ISBN: N/A | ASIN: B08NHQV9DF | 271 pages | PDF | 6.70 Mb
They say the first time is the best. I vividly remember my first childhood explorations of the piano: pressing the keys, combining notes, and on the second day, playing the complete piano sonatas of Beethoven. (Maybe it was the third day.)
My first piano experiments were unsupervised and without instruction. I can still recall the excite-ment of creating those pure piano tones by pressing the keys, and the thrill of putting notes to gether by playing two keys at once. But a time came when free
experiments had to give way to organized learning or I would still be pressing keys at random today. I gradually learned how music works in general and how the piano works in particular. This book leads you along the same path and gives you a few gratuitous laughs along the way.
Using simple exercises and a sampling of popular songs in a range of styles, this book teaches the beginner who has never played or read music how to do both with proficiency.
Witty sidebars and abundant illustrations make this book a fun read and the perfect "user-friendly" reference for the child or adult beginning keyboard player. Features examples in all styles of playing, from classical to rock and jazz Includes checklists of popular books, instructional material, and piano makers Brad Hill is a well-known music author and keyboardist.
Feel Free to contact me for book requests, informations or feedbacks.
Without You And Your Support We Can't Continue
Thanks For Buying Premium From My Links For Support