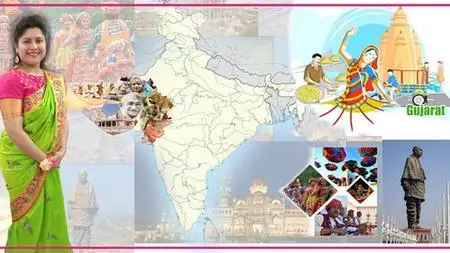 Learn Gujarati Language From Scratch: For Beginners
MP4 | Video: h264, 1280x720 | Audio: AAC, 44.1 KHz
Language: English | Size: 8.38 GB | Duration: 6h 25m
Complete Course : Oral, Writing, Grammar, Vocabulary. Finally Start Speaking Gujarati in a matter of hours, not years.
What you'll learn
You will build a very STRONG FOUNDATION in GUJARATI Language.
You will learn the most commonly used VOCABULARY in Gujarati.
You will be able to start reading BOOKS and NEWSPAPERS in Gujarati.
You will be able to become an early learning class teacher of Gujarati Subject and teach the people or community the Gujarati language.
Have simple conversation using common phrases from daily life.
Introduction of yourself to others.
Build your own sentences without memorization.
Speak from the very first lesson.
You can become an Edupreneur and teach others in your town.
Requirements
No previous knowledge of Gujarati.
An interest in Gujarati Culture, in travelling to Gujarat on vacation.
Enthusiasm, Energy, Positive Attitude.
Description
In this course, there are main five parts. In each part there are various sections.
The first part gives complete knowledge about Gujarati alphabets, vowels and consonants. Two letter and three letter words and numbers and number names. (Exercises and Interesting Worksheets).
The second part includes sentences of two words, three words and four words.
Numbers 1 - 100. (Exercises and Interesting Worksheets).
The third part talks about various things used in daily basis and thousands of Verbs.
The fourth part includes Grammar and various kinds of conversations.
The fifth part will tell you some Gujarati stories and Gujarati rhymes.
Who this course is for:
This course is for those who really want to know the culture of Gujarat.
This course is for those who want to become a teacher of Gujarati language and want to start their own classes for Gujarati language.
This course is for business owners who want to deal or are dealing with Gujarati Business man.