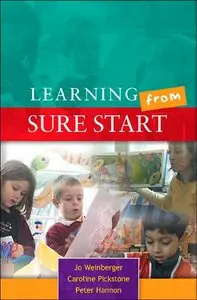 Jo Weinberger, Caroline Pickstone, Peter Hannon, "Learning from Sure Start"
Publisher: Open University Press | 2005-07-01 | ISBN 0335216382 | PDF | 304 pages | 1.6 MB
"…an easy-to-read evaluation of a trailblazer local programme… packed with helpful information such as pointers for the future, pie charts and parents' stories (not translated into dry 'research' speak)… It renewed my passion and reminded me why I got involved in Sure Start in the first place" Nursery World
?This book demonstrates the key strength of Sure Start, its breadth of vision? It shows how with the right effort, statutory and voluntary organisations can work side by side. It also shows how important it is to engage local people in finding solutions, blending professional and community support to strengthen both? Learning from Sure Start is a significant contribution to the evidence base on what works for young children and families.? Naomi Eisenstadt, Director, Sure Start Unit
Sure Start, an exciting initiative in early childhood care and education with families in the UK, has been developing new forms of community-focused early interventions, with the aim of having all children `ready to flourish? when they start school.
This book, the first of its kind, is the result of a close collaboration between one local programme and a university over a five year period. The contributors all have first hand experience as practitioners or researchers in the Sure Start programme at Foxhill & Parson Cross in Sheffield, which has provided a wide range of new services. Contributors:
* Describe various services within health, education and social welfare
* Examine implications of the development of inter-agency theory and practice for planning and delivery of services for children
* Evaluate methods that were employed
* Identify what worked and what didn?t
* Indicate lessons that can be drawn from experience
This is indispensable reading for students of early childhood and early years practitioners, policy makers, and researchers.