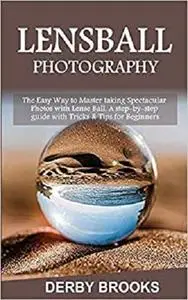 Lens Ball Photography: The Easy Way to Master taking Spectacular Photos with Lens Ball. A step-by-step guide with Tricks & Tips for Beginners by Derby Brooks
English | December 23, 2019 | ISBN: 167984685X | 41 pages | Rar (PDF, AZW3) | 0.88 Mb
Get the "Creativity Boost" for your Lens Ball Photography!
Written by an experienced photographer, this book explains everything you need to know about Lens ball photography in order to enable you to take great pictures yourself!
Among other things you will find the answers to the following questions:
What do I need to consider when buying a Lens ball?
Which camera do I need and which settings do I have to use?
Which subjects and scenes are best suited?
How do I maintain, clean, store and transport a Lens ball?
How important is post-processing and which programs should I use?
The best tips and tricks from the extensive experience of the author
A guide about how to combine glass ball photography and social media
What Lens ball/lens ball is relating to photography
How to choose the right Lens ball for different photo frames
Equipment needed for Lens ball photography
Lens ball photography subjects
How to position Lens ball for amazing photos
Common Technical Issues to overcoming while using crystal ball
Understanding Elevation while shooting with crystal ball
The effect of light in Lens Ball photography.
Understanding the Aperture Effect
Easy ways to use Lens ball in photography
Find completely new, unexpected ways to use your glass ball effectively and learn for example:
how to achieve a special wow effect by using puddles or reflecting surfaces
what you should consider with hand-held glass ball photos and how to perfect such images
how to capture sunsets by the sea or in the city in the best possible way
what is the best and at the same time cheapest glass ball stand in the world
how to create unique looks by using long exposure times or bokeh effects
This compact guidebook will awaken your creativity! It will make it incredibly easy for you to bring your glass ball photography to the next level and take really impressive photographs!
Feel Free to contact me for book requests, informations or feedbacks.
Without You And Your Support We Can't Continue
Thanks For Buying Premium From My Links For Support