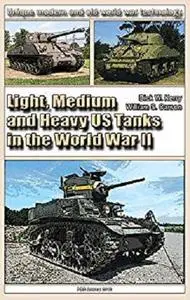 Light, Medium and Heavy US Tanks in the World War II: Weapons and military equipment of the world by William S. Carson
English | September 20, 2018 | ASIN: B07HKGJ8RL | 277 pages | AZW3 | 16 MB
This book is devoted to the formation of US tank forces before the Second World War. In it, we'll look at the models of tanks that went into mass production. Here we will consider the light, medium and heavy tanks of the so-called M-series. Also here are given their tactical and technical characteristics, design of the construction and also information on combat use.
Content:
Brief History of American tank building
Light tanks
Light tank M3 "Stuart"
Modifications of the tank M3 Stuart
Operation and combat use of the Light tank M3 Stuart
M3 tank in the post-war period
Light tanks of the American army
Light tank M2
Light landing tank M22 "Locust"
Light Tank M24 "Chaffee"
Medium tanks
Prehistory of the creation of medium tanks in the US
Development of the M2 medium tank
Creation of the M3 medium tank
Design of the M3 tank
Modifications of the M3 medium tank
Combat vehicles based on the M3 tank
Combat use of the M3 tank
Tank painting and identification marks
Medium tank M4 Sherman. History of creation
Modification of the M4A1 medium tank
Description of the design of the M4 medium tank
Combat use of medium tanks M4 Sherman
Evaluation of the M4 medium tank
Heavy tanks
Heavy tank M6
Heavy/Medium tank M26 Pershing
keywords:
US tank forces in World War II
Brief History of American tank building
Light, Medium and Heavy US Tanks
Heavy US Tanks in the World War II
Modifications of the tank M3 Stuart
Creation of the M3 medium tank
Heavy/Medium tank M26 Pershing