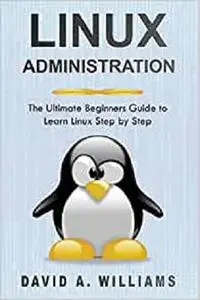 Linux Administration: The Ultimate Beginners Guide to Learn Linux Step by Step by David A. Williams
English | September 1, 2019 | ISBN: 1689984341 | 138 pages | EPUB | 0.21 Mb
Have you ever wanted to become a Linux System Administrator? Or did you want to learn more about the operating system? If you answered yes to these questions, you have come to the right place.
The motive of this book is to get you well versed with the Linux operating system and the profile known to the world as Linux System Administration. A Linux system admin is basically a superhero who owns the servers of an organization and makes sure that they never go down.
Servers in an organization contain user data, which is the most important thing in the modern world. Loss of data can result in huge losses for an organization and even lawsuits.
Over the course of the book, you will gather information about the following:
This book will prepare you with the knowledge that is essential to enter the field of Linux system administration.
You will learn about the operating system called Red Hat Enterprise Linux 7 and how to install it.
After installing you will learn about the tasks that are essential for a system in their day-to-day life.
You will learn about the command line in Linux, which is used extensively by system admins to perform tasks using important commands.
You will further get to know about the Linux File System hierarchy and how to navigate your way through files and directories in the Linux operating system.
You will also understand how processes work in the Linux system and how you can use commands and signals to manage system processes as well as processes started manually.
You will learn about SSH, which is one of the most used tools in Linux systems to create secure connections between two Linux systems on a private network or over the Internet.
You will study how to analyze logs in the Linux system and how to read them to understand errors and how to fix those errors.
And much more !

All in all, the book is aimed at preparing you to enter the world of Linux system administration such that you can pursue a career in an organization, which demand this role on a very large scale.



Feel Free to contact me for book requests, informations or feedbacks.
Without You And Your Support We Can't Continue
Thanks For Buying Premium From My Links For Support