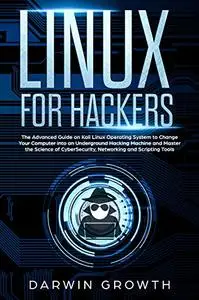 Linux for Hackers: The Advanced Guide on Kali Linux Operating System to Change Your Computer into an Underground Hacking Machine and Master the Science of CyberSecurity, Networking and Scripting Tools by Darwin Growth
English | October 5, 2020 | ISBN: 1914024257 | 132 pages | EPUB | 0.33 Mb
If You Are Looking for a Detailed Guide on Linux, and You Really Want to Know How to Turn Your Operating System into an Incredible Hacking Machine, Then Keep Reading…Linux is a free and freely distributed operating system inspired by the UNIX system, written by Linus Torvalds with the help of thousands of programmers in 1991. Unlike other operating systems, such as MacOS (Apple operating system), UNIX is not intended to be easy to use, but to be extremely flexible.This operating system is an option to be taken into account by those users who are dedicated to work through networks, devote to programming, or to learn hacking techniques.
Especially for hackers, Linux is the best operating system on the market because it allows to perform a wide variety of tasks and transform your computer into an incredible hacking machine.
Read, memorize, and put it into action! If you do this, no system will stand on your way!
This book will help every new hacker to get started in the Linux world and develop great skills to start hacking as soon as possible! This is an easy guide with simple language for all hackers.
You'll Learn:
Basics of Linux operating system
How to use Linux to turn your computer into a hacking machine
Linux distributions and text manipulation
Detailed description about how to start hacking with Linux
Why is Kali Linux the best option for every hacker
All the skills you need if you want to be a professional hacker
A step-by-step guide for new hackers
Process of web hacking
And much more
The methodology that has been laid out in the book determines the range of vulnerabilities that the tester can discover and help in securing a company's resources. Hacking using Linux is therefore straightforward if one can follow the steps that are required to complete every process.
Even if you are a complete beginner, with this guide you will get all the tools and support required to start hacking right now!
Start your journey! Develop underground hacking skills and turn your Linux system into a powerful, unbreakable, and unstoppable machine!
Feel Free to contact me for book requests, informations or feedbacks.
Without You And Your Support We Can't Continue
Thanks For Buying Premium From My Links For Support