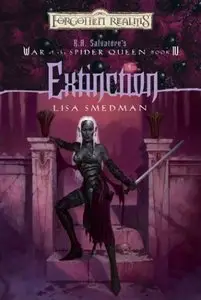 Lisa Smedman - Extinction (Forgotten Realms: R.a. Salvatore's War of the Spider Queen, Book 4)
Wizards of the Coast | ISBN: 978 0786929894 | 28/01/2004 | English | 352 pages | PDF & LIT | 1 MB
This latest title expands the civil upheaval among the drow, one of the most popular races in the Forgotten Realms setting. Best-selling author R.A. Salvatore wrote the prologue to Extinction and continues to consult on the series, lending his expertise as the author who brought drow society to the forefront of the Forgotten Realms setting.
Reviews
This series continues to be amazing
It still suprises me to find such an enjoyable series considering it's "a based on" work and written by different authors.
The story was three pronged, following the continued siege of Menzoberranzan where Gromph played a big role, Ryld and Hallistra's adventures above ground, and finally the rest of the Drow parties continued mission to find out what happened to Lolth.

I liked a lot of things here, not just the clever use of magic and combat descriptions. I found myself rooting for even characters that are normally considered "the bad guy", like Gromph who got himself out of various troubles in a very clever way. Danifae too, who is obviously evil and devious, and yet I'd like to see her gain her freedom.

Pharaun played a big role again, and he was even more clever than before. Wonder if he will meet Alizia again in the next book? *wink*

Hallistra and Ryld's new lives in the world above I found very believable, and I am looking forward to them meeting back up with the old party in the fifth book.

Even Quenthel and Valas' characters were given more time, and it was interesting to see Quenthel's "weakness". I think that drow should be drow but since we are humans reading this, a few weaknesses or less than drow behavior make it all the more interesting to us. Though obviously no character in this book will be stroking Mielki's Unicorn any time soon!

Overall highly recommended for drow lovers, those that like clever use of magic and those that want to follow Menzoberazan's story after the Drizzt and Liriel series.
About the Author
Formerly a magazine editor, Lisa Smedman splits her week between working as a reporter/editor at a weekly newspaper and writing fiction. Her most recent credits include authoring Heirs of Prophecy and contributing a short story to The Halls of Stormweather.